What's on in London: First Time
Nathaniel Hall returns to the stage with his autobiographical show.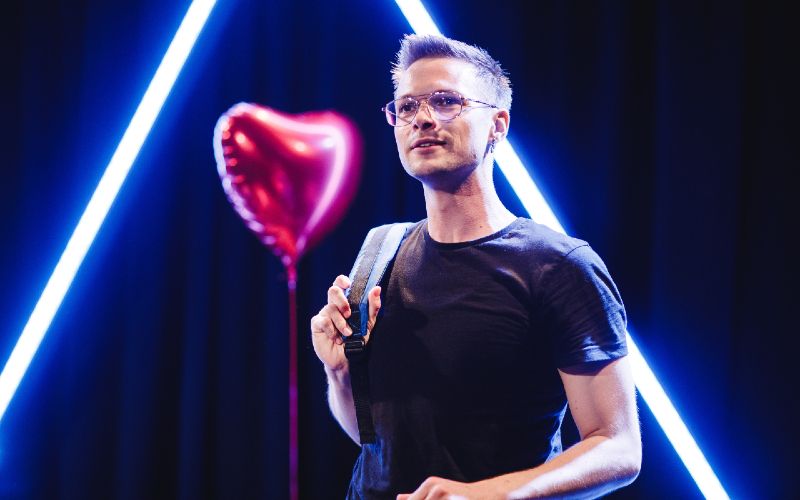 First Time is the autobiographical solo show from Nathaniel Hall.
This is a show that explores the ups and downs of life with HIV, but it's not all trauma – this is a story told with plenty of humour, warmth and affection.
Hall's journey with HIV began two weeks before his 17th birthday – he acquired the virus as a result of his first ever sexual experience.
Since its premiere on World AIDS Day in 2017, First Time has toured across the UK. It's currently on in London at The Pleasance Theatre.
First Time showcases Hall's skills as an actor and storyteller. It's a one-man show, but he brings to life his journey and the surrounding characters while maintaining a connection with the audience.
Without doubt, the show is educational – it's an effective way of putting a human face to HIV while also sharing insights about treatment, prevention, and stigma. But even if you're totally up-to-speed with everything HIV, this is still an important show to see – it's a powerful queer story that we can all identify with in some way.
"I lived in secrecy about my HIV diagnosis for 15 years, but this only helped to feed the narrative that HIV is something to be ashamed of…" explains Hall. "Marking a very public coming out as HIV+, First Time has taken me on a journey to places I never expected. I'm humbled by the public reaction to my story and feel honoured to be inspiring others to smash through HIV stigma and shame. HIV has changed, but public knowledge lags behind. We are determined to end HIV stigma and shame for good, as well as contribute to the goal of ending all new transmissions of the virus by 2030."
First Time will run at The Pleasance Theatre in London until 13 February