What's on in London: Sucker 4 U
Bringing tentacle porn to the stage at the Pleasance Theatre.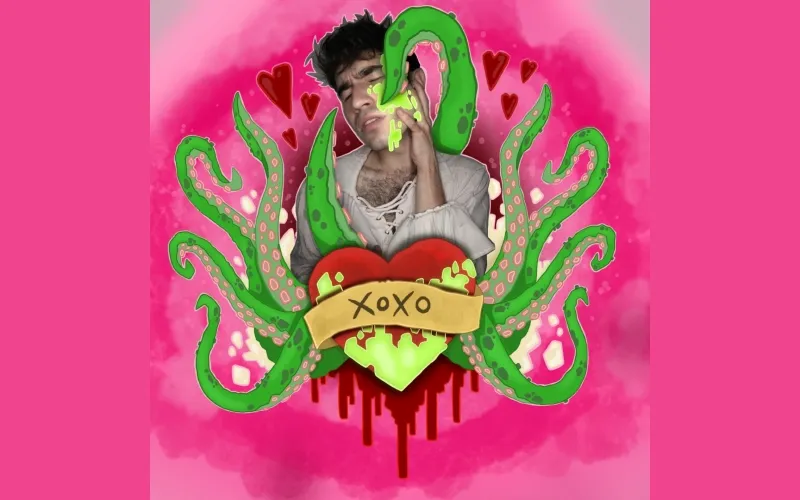 One of the shows coming up at The Pleasance Theatre in London is Sucker 4 U by Reece Connolly.
The show is described as a very dark, very rude queer comedy about a doomed inter-dimensional romance between a man and giant-monster-squid-from-beyond-the-stars.
I caught up with Reece for a behind-the-scenes look at the production.
What was your inspiration for this piece? Personal experience?
Sadly, though I have had some choice encounters in the past, I have never had relations with a tentacled death-god from another dimension – yet.
The piece is a total, unashamed love letter to cosmic horror – which is a sub-genre I'm obsessed with – and is also very weird and queer and tongue-in-cheek, because I am a very weird and queer and tongue-in-cheek person.
I've been writing and performing for a good few years now, and during this time I've kind of honed a style I enjoy working with – which is stuff that's darkly comic, usually draws from my love of pop culture – especially horror and sci-fi – and is designed to be broadly entertaining.
I love theatre, but it's so up its own bum and not even in the fun way. The work I make is meant to be silly and accessible and extravagant.
You're advising audiences to bring tissues – for the slime. How much slime is involved in this show?
I can't reveal too many spoilers, but this is essentially a story about a guy shagging a giant squid monster so obviously there'll be a bit of mess. All I will say is, slime comes in many forms.
How many rows back do you need to be to avoid the slime?
Why would you want to? In all honesty, I can barely afford a Tesco meal deal never mind a lawsuit, so attendees needn't worry about being in a splash-zone.
What are the challenges with working with slime on stage?
There is a particularly messy section of the show, but honestly it's more refreshing than anything else. After running about and shouting for 30 minutes nonstop, I appreciate the lubrication.
What are some of the sci-fi or horror references that people should be familiar with in order to get the most out of this show?
None necessarily! I want this show to be fun and inviting for everyone – with the exception of children, obviously, and those of a sensitive disposition.
You can come knowing nothing of the Lovecraftian mythos or life as queer person in 2022 and hopefully still have a lovely time. But, saying that, if you are into those there's plenty of jokes and easter eggs and references to sate your appetite.
What do you hope that people feel when watching Sucker 4 U?
I want people to have a great time, and laugh and gasp and cringe and think 'why have we come to see this??' but then 'that was awesome and I want to see it again, I'm going to tell all my friends and neighbours about it and make it a runaway success, land Reece a world tour, and a Netflix deal.'
Sucker 4 U will run at The Pleasance Theatre in London from 16-17 February – it's part of the LGBTQ+ History Month season