What's on in London: Yours Sincerely
What happens after you accidentally steal 300 stamps? It's time to write some letters.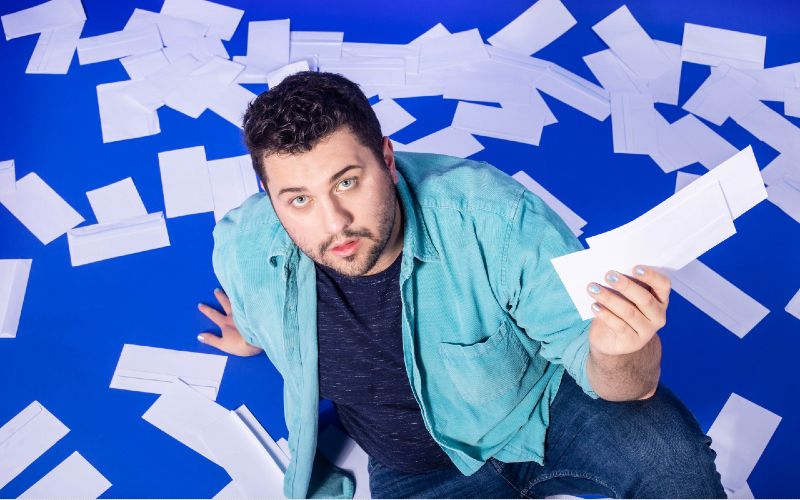 Yours Sincerely is a one-man show starring Will Jackson.
It's 2017, and Will has accidentally stolen 300 second-class stamps from the Post Office.
What do you do with 300 second-class stamps? You write some letters.
This is a queer comedy about the complications of modern-day communication – exploring the joys and pitfalls of the lost art of letter writing.
Jackson has created a show based on real-life correspondences, bringing the letters to life through a mixture of storytelling and lip-sync cabaret. Will's letter writing journey includes reconnecting with old friends and ex-boyfriends to run-ins with the John Lewis marketing department.
First performed at the Edinburgh Festival Fringe in 2019, Yours Sincerely has been touring the UK. The production comes to London in March.
I caught up with Will Jackson for a behind-the-scenes look at the show.
What was your initial inspiration that made you think – this is something I can turn into a show?
Back in 2017, I actually did accidentally steal 300 2nd class stamps from the post office, and I started writing letters with them.
There was something very intimate about the correspondences that took place with friends and family, but also a theatricality when I wrote letters as made-up characters. When I wrote as myself to people I didn't know I also found myself taking on a bolder, cheekier persona.
At the time, I was keen to make a play that was queer, fun and joyful, but didn't revolve around coming out or centre the main character's happiness on falling in love. I quickly realised that the letter-writing project ticked all those boxes. So I got to work, adapting the correspondences into a neater, semi-autobiographical narrative.
Once I had the idea of writing to John Lewis' marketing department as a 9-year-old trying to pitch them a new Christmas Ad, I knew I was on to something.
How has the show evolved since you first performed it in 2018?
It's not a traditional play. Nearly everything spoken comes from the letters, so there was a lot of work getting them in the right order. After every show, the director and I would move the letters around to try to tell the story in the most fun but also streamlined way.
When we got to our final Edinburgh preview in Derby, we finally cracked it. I also accidentally smashed a glass lamp across the stage as part of that show.
A huge theme in the show is isolation. I wrote the show just after I finished uni, and was definitely hit by the "Post-Uni Blues", which a lot of people go through – whether that's finishing education or moving away from home for the first time. The show was a love letter to the friends that I felt I was drifting away from.
Once the pandemic hit, that idea of being away from your loved ones stung even harder. We were all going through it. So although the text hasn't changed from before the pandemic, I think the elements of loneliness in it pack a different punch.
You've had to adapt your touring plans given the uncertainty of the last couple of years. Did performing in hyper-local venues give you a different perspective on the show or how audiences connect with the show?
Yeah, they're a lot more intimate, which fits the show nicely. It takes away a lot of the barriers and pretentiousness that can sometimes come with a traditional theatre space.
I have fallen a bit in love with the rural touring circuit. You get to meet all sorts of people you wouldn't have the chance to interact with usually.
It also sharpens your skills as a performer – when you haven't got killer lights and sets to back you up, you've only got your storytelling chops to hold an audience's attention.
What's your ambition for the show beyond these performances in London? Does more touring await?
Yes! We're heading to Bristol Tobacco Factory, Gala Theatre Durham, and the Mercury Theatre in Colchester to name a few.
When I was making the show, I had no idea the success or shelf life it would have, but we'll be hitting 100 performances of it this year. Which is wild, I'm still struggling to process it.
Beyond Yours Sincerely, I've got two new shows which are going up to Edinburgh Fringe this year with my company Quick Duck. "Confetti" is a new solo show, a queer rom-com about a wedding planner and "Fashion Spies", a choose-your-own-adventure for family audiences that I've written and directed – think Spy Kids meets Devil Wears Prada.
Do you still write letters?
I do. They tend to be quite short or postcards, but they're a nice way of checking in with someone you've lost contact with and saying "Hey, I'm thinking of you" without the pressure of an immediate response from the recipient.
With online messaging, there's pressure that you've got to be constantly available. It's nice to take that anxiety away with something fun and tangible.
What do you hope that people feel when watching Yours Sincerely?
I want them to have a great night out! I want them to have a laugh and enjoy themselves.
If they feel inspired to reach out to someone they've lost contact with after the show, that's a bonus too.
Yours Sincerely will run at the Soho Theatre, 14-19 March