Which destinations are on your travel wish-list?
We're ready to go!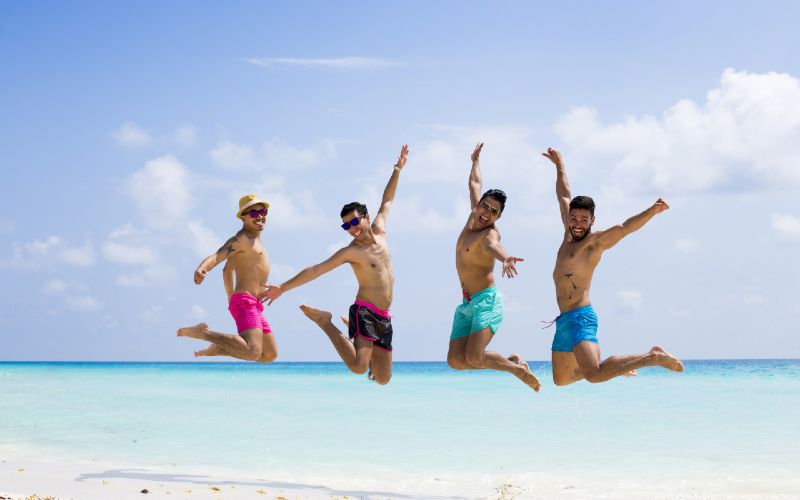 LGBTQ people are a pretty diverse bunch of travellers, but as a demographic we're some of the most active travellers in the market.
While lock-down has put a pause on all of our plans, have you started dreaming of your next vacation? Your next expedition? Your next adventure?
Here's a few of our favourite destinations in Europe, and a look at what makes them among the best for LGBTQ travellers.
Berlin
Berlin is always high on the vacation target list for LGBTQ people. In many ways, it's the perfect city-break destination  –  a huge range of cultural and historical things to do during the day, and Berlin's nightlife is legendary.
One of the strengths of Berlin is that it's a city with a really strong LGBTQ community, and a recognised LGBTQ neighbourhood in Schöneberg. Schöneberg is a surprisingly liveable part of the city, with a great selection of bars and cafes.
If you're looking for some hard-core clubbing, no one does hard-core clubbing like Berlin.
"What I love about Berlin is that whatever you're into, you'll find it there…" says Shih-Ming Yao from Toronto. "Particularly when it comes to kink  –  I had no idea that there were so many options!"
Barcelona
Barcelona (image: Pixabay)
Barcelona is the ultimate party town.
This beach-side location offers the perfect itinerary for any vacation  -  there's incredible architecture to explore and admire, but if you just feel like taking it easy then you can simply devote yourself to tanning on the beach during the day, grabbing some tapas for dinner, and then hitting the clubs with everything you've got.
Nothing in Barcelona opens early, so you'll probably need a siesta at some stage.
Barcelona's LGBTQ precinct is the neighbourhood of Eixample. This is most likely where your night out will be  -  with a great range of bars to kick things off before moving on to the clubs.
Feel like a day trip? The iconic beach-side resort of Sitges is just a short train journey away, offering great beach options and a relaxed and friendly vibe.
"Barcelona is the ultimate cosmopolitan beach city, mixing sun-drenched days by the sea with incredible architecture and a vibrant foodie and bar scene…"  confirms travel blogger  Fanny Minka.
"Barcelona should be on your travel wish list because of the city's warm welcoming vibe for LGBTQ people…" agrees travel writer Aaron Drake. "Go for a stroll along La Rambla and stop to enjoy some pinchos. Take the train for a day trip to the magical queer seaside town of Sitges."
Mykonos
Elias Beach, Mykonos (image: Pixabay)
There's no better place in the world for a bit of queer beach time than the beaches of Mykonos.
Elias beach is always a favourite, but there's also plenty of others to choose from.
This small Greek island is the ideal place to drink cocktails on the beach, then in the evening head to the restaurants and bars of the old town which really comes alive after dark.
"Mýkonos should be on your travel wish list because it has a great variety of beaches, some of which are the best in the country, despite its small size…" says Nikolas Bogiop. "Plus, there's always a good party or a great dinning option just around the corner."
London
London (image: Pixabay)
Without doubt one of the world's greatest cities, London has a huge amount to offer all travellers  –  museums, galleries, shopping, restaurants, and bars.
Soho is London's iconic LGBTQ neighbourhood, but some of the most exciting nightlife is happening in the inner-East,  in areas such as Hoxton, Hackney, and Dalston, or there are always the clubs south of the river in Vauxhall.
London is one of those cities that can be a bit intimidating and overwhelming  –  it takes a while to get under the skin of the place. Your best bet is to choose a neighbourhood and focus on that area rather than trying to cover everything in one go.
"From former gay brothel Buckingham Palace to Soho's vibrant gay scene, London is laced with queer influences both historical and current…" says YouTuber Bradley Birkholz. "It's an epicentre for queer nightlife, activism, and historical celebration, and should not be missed in any LGBTQ travel list!"
San Sebastian
San Sebastian, Spain (image: Pixabay)
If you're looking for beach time, food, and culture then San Sebastian in the Basque country of northern Spain ticks a lot of boxes.
"I love San Sebastian because its location is magical, you can eat and drink like a god, it's like a paradise from Adam on Earth, and even in the winter the city shines…"  says Aitor Delgado of Ernesto Delgado Tours.
Amsterdam
Amsterdam (image: Pixabay)
It's the relaxed pace of life that makes Amsterdam such a beguiling destination. Beautiful canals, everyone whizzing along determinedly on their bikes.
Amsterdam is perhaps not the party capital that it used to be, but there's a cool alternative vibe to everything that happens here.
"All I can say about Amsterdam is that it's a very 'out there' place, people who visit love it or hate it…" says Scott McGlynn. "Maybe you could find something outrageous to add to your sexy time."
"In Amsterdam there's so much to do and also lovely hidden gems of places  -  something for everyone and every taste!"  adds  A.J. Govan.
Brussels
Brussels, Belgium (image: Pixabay)
Easy to get to and with a surprisingly strong local LGBTQ community and nightlife.
You'll find most of the LGBTQ bars on Rue du Marché au Charbon in downtown Brussels, but some of the best hotels and restaurants are located uptown. It takes a bit of local knowledge to get under the skin of Brussels, but it's definitely worth persevering with.
Paris
Paris (image: Pixabay)
It's always hard to go past Paris as one of the world's best destinations, whatever your sexuality.
Paris is stunningly beautiful, undeniably romantic, and embraces its queerness from every perspective.
Le Marais is the city's LGBTQ district, and it's a neighbourhood that really pumps with small bars and cafes that sees patrons spilling out onto the streets whatever the weather. For something different, head to Rosa Bonheur on a Sunday afternoon  –  this small bar in the Parc des Buttes Chaumont starts to get busy after 4 PM and quickly becomes the best party in Paris.
"The whole town brings you back and forward in time with its impeccable architecture and unique decoration. Historic buildings mix harmoniously with new builds, and the view from the cafe on top of the Centre Pompidou is breathtaking…" says Nuno Lopes of Mainly Male. "I have to admit, every time I visit Paris I carry my notebook in my back pocket and my camera strapped around my neck. Inspiration is everywhere and I always come back home bursting with ideas. It takes some time to be able to experience everything that Paris has to offer, and the lines to the museums and monuments are always miles long but at the end of the day it will be worth it."