What's the appeal of cam sex?
Some like to watch, some like to be watched.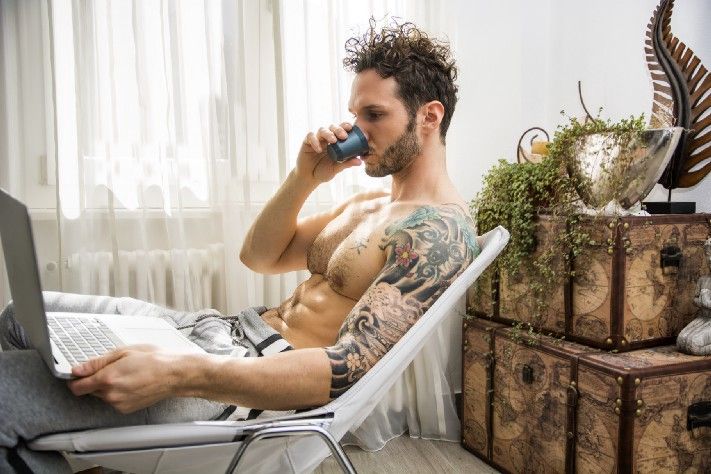 I caught up with my buddy Chet, to talk about his experiences of cam-sex.
Chet has to remain anonymous for this interview due to the nature of his work.
When did you first start connecting with guys online?
I remember early chat rooms for gay men in the mid-90s. For me, that progressed through to better video communication involving multiple hardware pieces that supported software like Skype.
But camming wasn't really satisfying until unified systems like tablets and smartphones made the connection process easier.
I increasingly found that chat was absurd, phoney, and unnatural when compared to seeing and hearing another man as you both stroked.
How do you connect with someone for cam-sex?
I have a limited number of connections that I've found through different means. I am open to camming with new men, but generally it's the same small group of guys that I connect with. Some connections are past personal encounters, some connections are direct from apps that have group cam meet-ups. After participating in a group cam, I connect with guys who interest me or who are interested in me. Some are secondary connections from both of the previous two categories.
Generally, I prefer other middle-aged men who are generally fit, masculine, and who honestly like pig-play without hang-ups.
What normally happens during a cam-sex encounter?
It varies due to constraints — time, proximity of partner who often doesn't know — and desire. I may do a quick jerk show for a bud, and we're done in five minutes. On a two dildo day, I may warm up on my 9-incher orally and ride it for a while before moving to big-boy, my 11-incher. On horny days I can do this and shoot three or four times.
What do you enjoy most about a cam-sex encounter?
I enjoy the process. I love stroking my hard lubed cock and showing off my body. But I also like letting men lead me in what I do. I enjoy the reactions as they see me ride my big-boy dildo, and I think they enjoy seeing me getting pleasure from that overwhelmingly incredible feeling.
If someone was interested in giving cam-sex a try, what advice or guidance would you give them?
Have a reasonably sized tablet — that way you have flexibility in framing yourself well for your cam-buddy and so you can also see your cam-buddy easily. Prepare so you have everything you want or need — lube, toys, towels — within easy reach. Know your app/hardware well so your partner (who is unaware that you cam) doesn't hear the ring song as you call your bate buddies and walk in on you camming which leads to accidental broadcasting of your partner's face and rage all over the internet. Finally, know that people may record you without needing your permission.