Where to get a drink in London
An incomplete guide to some of the places where I've had a drink recently.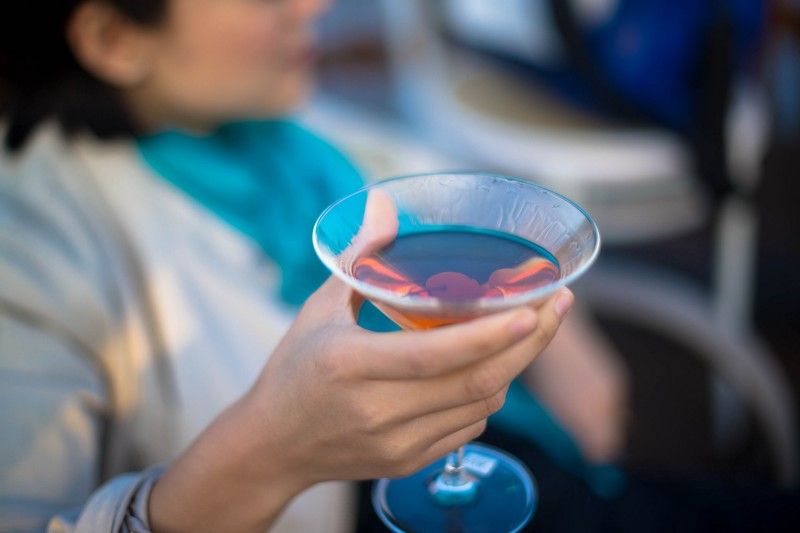 Central London: A guide to the best bars and pubs
The newish update of the Soho outlet of Balans is definitely an improvement on Old Compton Street — the slightly unloved promenade that is the heart of London's gay district.
Nicely subdued lighting and a warm, inviting atmosphere make this an ideal location to call in for a coffee, a drink, or some food while catching up with friends.
I was most recently here on a wintry Sunday evening with my boyfriend. The place was full, but the helpful guy manning reception quickly found us a table. We just had a beer, but people around us were eating, or drinking cocktails.
However the table service was a bit hit-and-miss, and the food we saw around us didn't look particularly appealing. I've got a feeling that this is the kind of place that will do well with tourists, but locals will most likely stick with better options in this neighbourhood.
Bob Bob Ricard is a stylish bar in the heart of London's Soho. The decor is what makes this place unique — it's an all-booth bar, so it's ideal for drinks with a couple of friends or a romantic tryst.
Anywhere that has a "press for champagne" button at each table is doing something right.
ECC stands for Experimental Cocktail Club and it's not an easy place to get into. It's not huge and they have a policy of reserving 50% of tables and keeping the other 50% for walk-ins.
It's a mysterious black door that leads to ECC — no signage, just a discrete bouncer. This place is pretty cool. Everything is done with some polish but also an ultra-cool edge — great music, perfect lighting, and even the loos have some crazy french dialogue playing which is surreal but cool.
However, as you would hope, it is the drinks that are the star of this show. It's not the biggest cocktail menu, but there's some truly experimental concoctions that are worth giving a go.
Unless you know about this place, it's the kind of bar that you could easily walk past without realising it's there. The entrance is a discreet set of stairs down into a basement space.
This always used to be one of my favourites, but my last few visits have been a bit underwhelming.
Roof-top space is at a premium in London, but one of the best views you can find is from the top of the One New Change shopping complex that overlooks St Paul's Cathedral.
While you can simply take the lift to the roof-top to wander around and enjoy the sights, if you fancy a drink or something to eat then your only option is Madison.
Madison is a pretty good place. There's definitely better bars and restaurants in London, but then again, there are also definitely worse.
What you're here for is the view and, if it's a nice day, to sit outside while enjoying a drink.
A good place to take guests from out of town.
Just off Wardour Street, in the heart of London's Soho precinct, the Soho Hotel's Refuel bar is a good bar serving decent cocktails.
It's full of straight people, and it's not particularly cool or edgy, but always has a good upbeat energy.
I'm a fan of their Old Fashioned.
The Booking Office bar is dark and gothic, high ceilings, a long marble bar, and dark leather seating. Perfect for a bit of pre-travel skulking while plotting an escape from wintry London.
This sense of old-world glamour flows through to the cocktail menu — which takes its inspiration from the Victorian golden-age of railway, specialising in punches served in hand-made copper punch bowls. The punches are pre-mixed and displayed on the bar. I went for the Charles Dickens Memorial which was a combination of pineapple infused rum and cognac. Really good.
A great bar and yet another reason to avoid flying and insist on taking the train everywhere.
A nice-looking pub that has retained much of its heritage feel.
Popular with the after-work crowd
The Paternoster is a Young's pub on the Holborn Viaduct side of Paternoster Square.
Quiet-ish during the day, it gets busy with the after-work crowd.
It's pretty basic, but convenient for after-work drinks.
Tucked away on the City side of Old Street, the Worship Street Whistling Shop is a cosy underground bar, rocking the retro speakeasy vibe.
This is often cited as one of the best cocktail bars in London, however in my experience it's a little over-rated. I've found the service a bit lacklustre and the cocktails not hugely exciting.
There are better cocktail bars in London.
More of a food place than a drinking pub, this is popular with the after-work crowd but doesn't really offer anything fresh or interesting.
There's better options out there.
North London: A guide to the best bars and pubs
69 Colebrooke Row — Islington
Possibly one of the coolest bars in the world. Big call I know, and it may have been the cocktails talking, but this place gets it right.
It's not effortlessly cool though, there's a lot of thought and detail that goes into creating the magic that is 69 Colebrooke Row. Helpfully, the location is not obvious — Colebrook Row is one of the most desirable locations in Islington, residential but just one block away from Islington's bustling Upper Street. Tucked away off Essex Road, you have to know how to find 69 Colebrooke Row — adding to its allure.
It's a small space but the fit-out is sharp — a small bar and limited seating, I love the lighting — clever fixtures and dimmed low enough to make everything a bit sexy.
The barmen (I think all French) are fitted out in smart white old-school jackets, and when it comes to cocktails they know their stuff.
The drinks menu they offer is a fairly limited set of house cocktails. On my most recent visit I opted for a Rhubarb Gimlet followed by a Dirty Martini (both excellent), and then for the third round (I was drinking with my friend Tristan) it was off menu for an Old Fashioned (possibly the best Old Fashioned I've ever had).
The more cocktails I had the more I felt cool, sophisticated and worldly — we laughed loudly, we flirted with the waiters, we ordered more cocktails… Genius.
Barrio North — Angel
Bright decor, vibrant music and lots of straight women — this is a cocktail bar for those who experience life through Tom Cruise movies.
Some cocktails seem to come with flaming fireworks. Others are so big that the entire table shares them, like a bucket that you might be tempted to stick your head into.
Hope and Anchore — Islington
A great neighbourhood option but also a solid theatre pub. Worth checking out.
Marquess Tavern — Canonbury
There's something perfectly aligned about the Marquess Tavern — nestled in the heart of leafy Canonbury, this place defines the genre of inner-suburban gastropub.
If you want to experience their Sunday lunch you'll need to book — Canonbury locals tend to dominate.
The Marquess Tavern has a nice light and airy feel, it's been renovated without losing any of the period feel and character of the pub.
This is a good place. Groups of well-groomed 30-somethings and families with toddlers all giving the place a noisy buzz that made you feel like you were hanging out in a glamorous neighbourhood.
Realistically I can't afford the Canonbury lifestyle, but it's a nice place to visit for a Sunday lunch.
The Betjeman Arms — St Pancras
Located within the stunningly restored St Pancras station, this is a surprisingly good pub to grab a drink after work or before travelling. Spacious, friendly, professional service.
The Fence — Farringdon
The is a favourite with the after-work crowd.
It has a decent out-door area, so on a warm, sunny evening it's not a bad option, but otherwise there's plenty of better places to choose from in this neighbourhood.
The Snooty Fox — Canonbury
Canonbury has to be one of the most desirable neighbourhoods to live in London. Easily accessible with great transport links, solid homes that seemed to have survived the last one hundred years or so, and great pubs such as The Snooty Fox.
Modern, spacious, but still retaining the relaxed informality that make the best British pubs a pleasure to spend time in.
Yet another reason to put Canonbury on the wish-list when you're searching for your next home.
The World's End — Finsbury Park
The World's End is a large old pub within easy walking distance of Finsbury Park tube station.
An established music venue, the pub boasts an impressive pressed metal ceiling in its performance space. It all has a relatively relaxed feel and seems like it would be good pub to have in your neighbourhood.
Tufnell Park Tavern — London
Tufnell Park is a really lovely residential area of North London, and the Tavern is exactly the kind of gastropub that you would want in your neighbourhood if you lived here. A big open dining space filled with families and kids and groups of friends.
On my most recent we were here for Sunday lunch. We had a slight panic when the waiter suggested that they might have run out of roast options as it had been a busy lunch service, but luckily there was enough roast beef and Yorkshire pudding to go round.
The food was good. Really good. Everyone was happy with their choices and we had a relaxed afternoon sitting around and swapping stories.
Zetter Townhouse — Clerkenwell
The Zetter Townhouse in Clerkenwell is a collaboration between The Zetter hotel and Tony Conigliaro from Islington's ultra-cool cocktail bar 69 Colebrooke Row.
The Zetter Townhouse is one of my all-time favourites — tucked away in a discreet corner behind the Zetter Hotel and the Modern Pantry, it feels very much like you're being invited into a friend's house for drinks — mind you, it would be a very posh friend with an eclectic taste in interior design and a friend who knows how to mix amazing cocktails.
The Zetter Townhouse is the perfect place for a quiet conversation or a bit of romantic quality time. The tone is relatively hushed and it all feels extraordinarily grown up. But above all it's the drinks that really make this bar one of London's top destination boozers.
East London: A guide to the best bars and pubs
There's a huge number of pubs and bars to choose from in East London — here's some of the ones that I've checked out recently:
Bar Kick — Shoreditch: Bar Kick is perhaps the perfect sports bar. Big screens showing the football, walls festooned with flags from around the world, beers, burgers, and table football. It's busy, fun, vibrant, and very popular with the after-work crowd (it's an easy walk from the nearby City business precinct and Liverpool Street Station). If you're a straight guy or a sports-lover, then you couldn't ask for much more than this — especially if you like a game of table football.
Betsey Trotwood — Farringdon Road: Historic pub that's worth a look
Dragon Bar — Shoreditch: Shoreditch High Street is an interesting blend of after-work City boys and inner-east alternative cool. There's a huge range of bars in this precinct, most of them pretty decent. Dragon Bar is a favourite of locals. The vibe is relaxed, the service is friendly, and they do food to. A good spot for meeting up with friends, or just contemplating a quiet pint.
Howl at the Moon — Hoxton: Howl at the Moon is an ideal local pub. Located on Hoxton Street in London's cool inner-east, they have a laid-back soundtrack of rock classics, a big range of beers on tap (with a focus on craft beer), friendly and efficient service, and they do good burgers. You can't ask much more of a pub than that. At a time when pubs across England seem to be closing, with changing social habits, increasing costs, and competition from bars and restaurants, it's nice to find a pub that offers the kind of ambience where you could quite happily kick back and spend a couple of hours with your mates. The Howl at the Moon is a great example of how to get it right.
McQueen — Shoreditch: To be honest I expected to like McQueen a lot more than I did. Apparently intended as a homage to style icon Steve McQueen, I had happy memories of this place when it used to be called the Tabernacle. It all looks good — like a masculine hunting lodge from the 70s. There is a bit of a funny smell though, like there has been too much cheap lager spilt on the floor. There's an impressive array of bottles behind the bar but they're not doing cocktails, just basics. Admittedly it was a Tuesday night, but I expected it to be busier (in the week before Christmas), the crowd was fairly uninspiring and the music was some sort of compilation tape from the early 90s. Plenty of better options in this neighbourhood.
Monty's Bar — Brick Lane: Brick Lane is a bustling hive of activity throughout the week, but on Sundays it is particularly rammed with market stalls and street food. We were looking for somewhere to take a break and grab a drink, so opted for Monty's Bar. Unfortunately this is a bar that looks a bit more interesting than it actually is. The staff were disinterested and the whole place was lacking energy. Pitching itself as a cocktail bar, the drinks we tried (a mojito and a dark and stormy) tasted like the cocktails that you get during happy hour. There are better bars on Brick Lane.
Nightjar — Old Street: Night Jar, a small discreet door just beside the Old Street roundabout. I grabbed a seat at the bar and after a quick flick through the cocktail menu, ordered a "Remember the Maine" — Four Roses bourbon, sweet Vermouth, cherry brandy and absinthe. The coasters are playing cards that either advertise drinks or showcase jazz legends. It's pitched as a "speak-easy" and plays off a prohibition-era vibe perfectly. The sharing cocktails looked spectacular — big jugs of booze served with a creative twist. Watching the bar staff work is an absolute joy — focused and professional, mixing an endless array of complicated cocktails as easily as if they were pouring a beer. Like mad scientists but a lot more glamorous. You're going to need to book a table to avoid disappointment. This place is seriously cool.
Royal Oak — Columbia Road: It was a bit over ten years ago that the Royal Oak on Columbia Road was transformed into the quintessential gastropub that you will find today. Prior to that this was one of those strange pubs that seemed to be open all night and attracted the East London alternative crowd, before the rest of the world realised how cool and weird they really were. There was a time when you would be up early to get your flowers and you'd think nothing of stepping over the happy but wasted punters who were stumbling out of the Royal Oak into the cold hard light of a Sunday morning. Those days are gone. In the post-gentrification world of Bethnal Green, if you're heading to the flower market on a Sunday the chances are that you'll end up in the Royal Oak at some stage for a quick pint, to catch up with friends, or if you're lucky enough to snag a table then you can enjoy their Sunday roasts for lunch — they're pretty spectacular. On a sunny day like today, everyone was grabbing drinks from the bar and then hanging out in their small beer garden, or spilling out on to the street outside where some cool buskers were keeping the crowds entertained. Celebrity spot for today — we were sitting on the curb next to actor Russell Tovey and his pug. The Royal Oak is great pub in the middle of one of London's most popular markets.
The Big Chill — Brick Lane: Located in the Truman Brewery complex off Brick Lane, this was one of my favourite hang-outs when I first moved to London. It's still good.
The Bridge — Shoreditch: Kingsland Road is one of the best after-work precincts that surround the City of London. Awash with Vietnamese restaurants, bars and cafes, this is where everyone comes for a drink or a bite to eat. It's also a busy area on weekends, close to Brick Lane, Hoxton, and the Columbia Road flower market. One of the more interesting venues in this neighbourhood is The Bridge, a ramshackle kind of cafe and bar, tucked away beneath the rail bridge that crosses Kingsland Road. Relaxed, plenty of places to sit and hang out, The Bridge definitely adds to the complexity and colour of one of London's best drinking destinations.
The City Pride — Farringdon Lane: More of a pizza restaurant than a pub
The Dickens Inn — St Katharine Docks: An enormous pub that has been extended so much that it's hard to tell if any of it has any history or not. Seems designed to cater to after-work drinkers and slightly lost tourists.
The Eagle — Farringdon: Apparently London's first "Gastropub", The Eagle is a casual but lively place serving great Portuguese-ish food cooked in the busy open kitchen that dominates the
crowded bar.
The Grapes — Limehouse: The Grapes is one of London's oldest pubs. Tucked away on Narrow Street, a quiet corner of Limehouse, this is a small space with a unique position overlooking the river. Sitting out on the back terrace, the water is gently lapping at your feet as you take in the spectacular views. The quiz night is fiercely competitive, and quality food is also served. One recent edition is a statue by Antony Gormley — one of the pieces from his Another Place series, alone in the river, looking towards the sea. If you're looking for an iconic London pub then this is the place to come.
The Green — Clerkenwell Green: Nice small pub, always busy
The Narrowboat — Wenlock: If you're wandering along Regent's Canal in London, just near Hoxton is The Narrowboat — a canal-side pub where you can stop for a drink or get some food. A popular spot.
The Prospect of Whitby — Wapping: The Prospect of Whitby is one London's oldest, and best-loved pubs. With a unique position overlooking the river in Wapping, this is the ideal place to call in for a drink or a meal while exploring the area. A friendly, professional atmosphere and decent food, but it's the river that you come here for. A slice of London history that is worth visiting.
Town of Ramsgate — Wapping: The riverside neighbourhood of Wapping seems to be blessed with some of London's best pubs. The Town of Ramsgate is a small, old, narrow pub, with a rear courtyard that overlooks the Thames river that rushes by its back door. You can't ask for a better example of the classic English pub. We called in for a drink on a Sunday afternoon — it was busy but relaxed. We sat in the sun and steadily worked our way through several pints. Perfect.
Verge — Brick Lane: Brick Lane is such a vibrant part of London — no longer just the heart of Bangla Town with its wealth of Bangladeshi restaurants and curry houses, but also lots of great shops and the markets on the weekend. You would think that there would be some amazing bars in this precinct, but there's quite a few that are just okay. Verge, on the corner of Brick Lane and Bethnal Green Road, is one of them. Not terrible but not amazing.
Zetter Townhouse — Clerkenwell: The Zetter Townhouse is a joint venture from the Zetter Hotel and 69 Colebrooke Row. Located just behind the Zetter Hotel (next to Modern Pantry), the Townhouse is amazing. It goes without saying that the drinks are top-drawer, the decor looks like my grandmother's "good" room (but really works in a cool, comfortable way) and the service is perfect (professional but relaxed). Love this place. Think I might move in.
West London: A guide to the best bars and pubs
Artesian, Langham Hotel
Hotel bars can be a bit of a hit and miss affair — some are dire, some are outstanding. Generally they're not the obvious choice, so some local knowledge of a good hotel bar can be useful to have up your sleeve when you're looking to suggest something that demonstrates your inside knowledge.
Artesian is a beautiful space — they've got the lighting just right, the furniture is comfortable but stylish, and there's a general "oriental" ambience but all done with a lot of style.
The cocktail menu is quite spectacular and you should really take your time to absorb and appreciate the options available to you.
On my most recent visit I eventually settled on "The Landau Martini" — to quote the cocktail menu:
This is perfect light aperitif, ideal before heading for meal. Grey Goose La Poire with fresh citrus, hints of nuttiness, orchard fruit and fresh mint, perfumed at the table with XO cognac.
I'm not joking, the waiter used a delicate atomiser to spray a wafting mist of cognac over the drink after it was presented to the table. I was skeptical, but it did seem to give it a bit of extra zing.
Obviously, prices here aren't cheap — but what you're getting is particularly good.
The crowd at Artesian is generally an interesting mix — mostly hotel guests, a number of bored-looking couples, some businessmen in suits, and some ladies who lunch, but there's always a nice burble of friendly conversation helped along by some quality background music that gives the room a warm buzz and a general glow.
Artesian could possibly somewhere to take a date (you'd have to judge that carefully), but it's definitely a great option if you're wanting to impress someone from out of town. It's always a good option for your back pocket when you're looking to prove your "Londoner" status.
The Antelope — Belgravia
Traditional English pubs don't get much better than The Antelope.
Belgravia is a stylish neighbourhood but this is an authentic old pub with a relaxed atmosphere, friendly and professional service, and a great location on Eaton Terrace.
I generally end up here if either before or after (or both) when I'm going to a concert at nearby Cadogan Hall.
This part of London can sometimes feel a bit pretentious, but The Antelope is a welcome oasis — a decent pub where you can get a drink and have a chat with your friends.
The Waterway, Maida Vale
The best time to enjoy The Waterway is on a sunny day — predictably, at the first glimpse of sun this place is rammed.
The Waterway has a great, canal-side location, and it's ideal as a relaxed meeting point if you want to catch up with some friends over food and a few drinks
To be honest, the food is okay, the service is rubbish, and avoid their jugs of Pimms — so lacking in alcohol that it might as well be a jug of soda with a few mint leaves bunged in.
South London: A guide to the best bars and pubs
Exploring the diverse neighbourhoods to the south of the Thames River
London is an incredibly diverse city, with numerous different neighbourhoods and precincts that can often seem worlds apart.
In many ways, south of the Thames River feels noticeably different to the city that lies to the north of the river. But even within the broad precinct described as South London there's huge variation in neighbourhoods, types of housing, cultural mix, and socio-economic demographics.
How does that influence the types of bars and pubs that you'll find in South London? Here's an incomplete guide to some of the places I've been recently:
The Dartmouth Arms is the perfect neighbourhood pub. Nothing beats a good Sunday roast at a pub, and The Dartmouth Arms does it well. The locals love this place, almost adjacent to Forest Hill train station. I've also eaten here mid-week for dinner and it's impressively good — nothing too fancy, but you'd have to describe it as gastro-pub, definitely a step-up on the basic pub food that most places fall back on.
Founders Arms — Southbank
I'd arranged to meet Andrew for a drink and a catch up at The Founders Arms on London's South Bank, just near the Tate Modern. Andrew had suggested the Founders Arms to make the most of what had been a beautiful summer's day in London. It was a busy place, with a relaxed boozy crowd stringing out the summer day as long as possible. Although not a beautiful building itself (it resembles a large public toilet block if we're being honest), the Founders Arms does enjoy unrivalled views across the Thames and out to St Paul's. We drank jugs of Pimms and watched the sun set behind Blackfriars Bridge. Good times.
The Windmill Tavern — The Cut
A busy and lively place — a big space with nice high ceilings and an airy sense of openness. The crowd was all young groups of friends, meeting for drinks after work in the City.
The Horniman — London Bridge
Looking out over the Thames, opposite London Bridge station, The Horniman has a great location and it's a huge space. It's always busy and chaotic. There's a lot better places to get a drink in this precinct, although the name makes me snigger every time.
The Florence — Herne Hill
It was a weekend in London and I caught the train from Farringdon to Herne Hill for Sunday lunch with Tristan and Trish at a pub called The Florence.Herne Hill surprisingly easy to get to on a train. I've driven through it before but it's the first time I've spent any time here — it's surprisingly nice! Good mix of cafes and shops in a neighbourhood-style precinct surrounding the station, and Brockwell Park begins just across the road. The Florence is a bright, open pub — busy on a Sunday afternoon, awash with families, dogs and gays. Sunday roasts are a bit of a speciality and there was the choice of chicken, pork or beef. I chose the beef but they all looked much of a muchness — big servings, not amazing but not the worst meal you've ever had. We had a great table that caught the sun for the entire afternoon. It was a relaxed atmosphere and we took our time chatting and catching up over a glass of wine. There's better Sunday roast/gastro-pub options out there, but if you're in Herne Hill and looking for somewhere to meet friends then it's a pretty safe bet.
The Other Room Beer Bar — Tower Bridge Road
We were looking for somewhere local to go for some informal office drinks after work on a Wednesday. After a bit of debate, we opted for the recently opened The Other Room Beer Bar — it's been in business for nearly three months. This was a great choice. Part of the same family as the Bermondsey Arts Club, The Other Room Beer Bar is a simple, small bar that specialises in local craft beer and a couple of specialities from around the world. We tried quite a few and loved them all — the German Pilsner was the stand-out for me. They'll soon be serving food also, so this place definitely has the potential to be our new favourite after-work bar.

Follow Gareth Johnson on Twitter
---
Show your support for G-TV by grabbing a t-shirt.
Available in a range of sizes, colours, and styles.