Why is dating guys so difficult? Scared of being hurt? Scared of being vulnerable?
Ben Allen explores the fear of intimacy in his film Blood Out Of A Stone.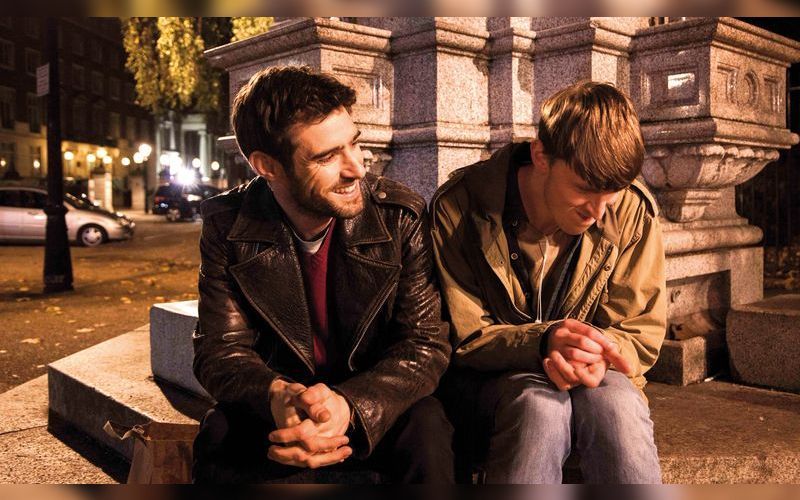 Boys on Film is a continuing collection of short films that explore the LGBTQ experience. Volume 19 in the series is titled No Ordinary Boy.
One of the films included in this collection is Blood Out Of A Stone from filmmaker Ben Allen.
We caught up with Ben Allen to talk about the film.
What was your inspiration for this story?
The film is based on a date I went on around ten years ago. In the real-life story, I was Dan, and Michael was a lovely Finnish guy called Jani. At the time it felt like something out of a film, so it was always in the back of my mind as something I could dramatise.
In this film, the character of Dan is based on me and my experiences as a single gay man in my twenties. London was such a double-edged sword for me at that time – its vastness and unpredictability were both a blessing and a curse, and I was often finding myself getting my fingers burnt in short-term flings with guys who I would fall for very quickly.
Dan represents the dark side of my personality, I suppose – the part of me that is scared of getting hurt, scared of being vulnerable and seen for who I really am. I think a lot of guys, especially gay guys share this experience.
Why is intimacy so challenging for some guys?
Control is one of the keystones of conventional masculinity, and intimacy is often about losing control. Also, in the dating app age, we have a new sense of choice which means that we're often reserving ourselves for someone 'better' around the corner, or are worried that the other person is doing so. I think we're all a few notches more paranoid than we were ten years ago.
What was your casting process?
Both myself and my producer Jack have personal connections with some great agents, so we were able to get some fantastic actors to audition.
It was slightly odd because I'd always thought that I would play the part of Dan, but at the same time it was fascinating to see how differently the character could be played.
I was so happy to get Alex Austin and Oisín Stack for the film, as both of them completely nailed the essence of the characters but also brought something new and unexpected.
What does the film tell us about the challenges of gay dating?
It's a comment on how this new age of apparent choice can leave a lot of people feeling stranded – this applies to everyone, not just gay people. It's also talking about tribalism within the gay community. How certain types of people might feel that they can't be with someone else who is a different type. One of the potential reasons Dan refuses to see a future with Michael is because he's decided that they aren't in the same category.
What do you hope that people feel when watching Blood Out Of A Stone?
I want people to be invested in the story, and then for them to be asking plenty of questions by the end. What I've loved about speaking to people who have watched this film is how people are always intrigued to know why the film ends in the way it does. Ultimately, I want the audience to decide this for themselves.
Boys on Film is distributed by Peccadillo Pictures