Why we still need bathhouses and saunas
We're here to help fuel your fap fantasies.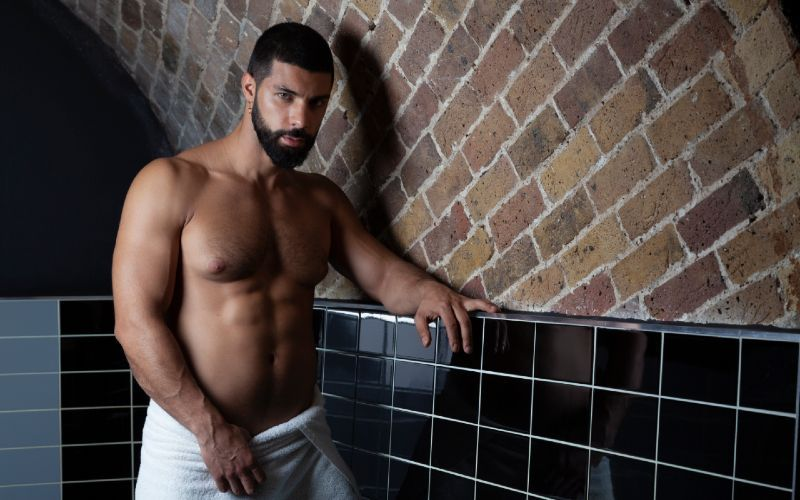 Have you explored the appeal of gay bathhouses?
Do you like a bit of sexed-up steam in a sauna?
Erotic gay fiction - Sauna Surprise
Real life: My first time in a gay bathhouse
It's 10 PM on Tuesday night and I'm lying on a poolside recliner with a towel round my waist. A naked middle-aged man approaches, he's fondling his hard cock. He makes a few suggestions about what he could put where, which makes us both laugh. He then saunters on to the steam room. It's a pretty typical exchange, I suppose, in a leading London sauna for guys who are seeking a bit of man-on-man action.
I'm at Pleasuredrome, a cavernous space under a Waterloo railway arch which offers steam rooms, a spa pool, and on-site masseurs. There are loads of private cabins, and a bar area serving drinks and snacks. It's open 24 hours a day, seven days a week. I walk past the entrance regularly on my way to the gym. There always seems to be guys popping in and out.
Property developers are a threat to London's LGBTQ venues generally, and a number of London's big bathhouses have closed in recent years. After all, now we have dating apps, do we even need spaces like this?
Before my Tuesday night trip to Pleasuredrome, I spoke to a range of guys who use saunas with varying degrees of regularity. Carl is in his twenties and lives in Oxford. He says he visits one five or six times a year prefers the experience to using apps.
"I'm a bi guy and sometimes it's quite nice just to leave all pre-judgement in the locker, relax and have fun…" explains Carl. "I'm not hiding anything, but sometimes a focused group of guys – collected in one place for the same reason – speeds the process up."
Toby, who's in his thirties and lives in London, tells me he used to frequent saunas for practical reasons.
"When I didn't live in London, they were somewhere to shower and sleep after being out for the night, before taking the first train back to Essex…" says Toby. "Pleasuredrome even did food and tea, which was most welcome."
Carl reassures me that I'll have fun at Pleasuredrome, but I still enter feeling apprehensive. I've been to bathhouses before, but never sober and never alone. After I strip off in the locker room, I head down to what they call an "encounter area". It's not packed, but neither is it empty.  There are guys of all ages, from mid-twenties to mid-fifties I'd guess, with different body types and ethnic backgrounds. There are no women or non-binary folks, but it feels like a more varied cross-section of gay male life than you see at the average club night.
"I think they're beneficial and important places for many guys and there's a reason why they're still open…" says Toby. "Like cruising, people will always want to effectively 'go shopping' for sex. There's a thrill factor, especially for guys who don't readily have the opportunity to meet other guys because of where they live, or because they have limited social skills. Bars and clubs require high levels of socialising and confidence. That's less the case with apps, but even then you still have to go through all the chat. Even then, the person may not be exactly what they appear to be. With saunas, what you see is what you get. If you don't have the opportunity to meet guys very often, just being semi-naked around other guys can be a thrill in itself."
Pleasuredrome feels clean and well-supervised. Signs specify a strict no-drugs policy and staff patrol regularly with torches.
Kai, a gay guy in his thirties, tells me he and husband Tim are "patchy" sauna visitors who avoid going at the weekends "because that's when you get people high coming out of clubs".
"We can go many many months without going to one, especially with the advent of dating apps…" explains Kai. "But different saunas definitely have different vibes. Some are very laid-back. But actually, all the saunas I can think of have a gathering area where you can just chat if you want."
I see this happening at Pleasuredrome. There are several pairs of guys just sitting and chatting – maybe after having sex, maybe not. After I've relaxed a little, I end up making out in the pool with a nice-looking guy. He appears to be in his late-twenties. After we spend some time in a private cabin upstairs, we have a drink together in the bar. He tells me he moved to London from Colombia seven years ago to train as a surgeon. He doesn't come to saunas often, but work had been tough today, so he wanted to let off steam.
I'm glad that places like this are still around. I'll definitely be back for more.