Women we love: Josephine Baker
The bad-ass babe who joined the French resistance and fought for civil rights.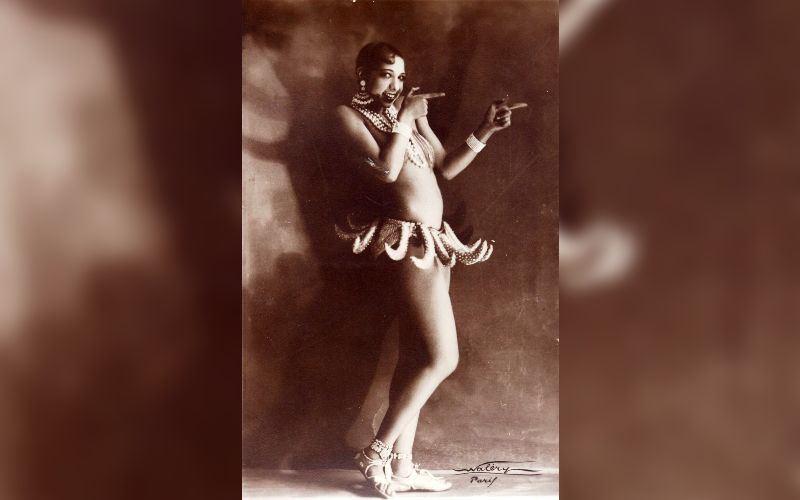 Josephine Baker was born in the US, but hit the heights of her career performing in Europe. Her banana skirt costume has become an iconic image and a symbol of the 1920's Jazz Age.
By any measure, Baker was a bad-ass babe – she joined the French Resistance and fought for civil rights.
Early life
Josephine began life as Freda Josephine McDonald, born in 1906 in St Louis, Missouri.
By the age of 13, Josephine had dropped out of school and was working as a waitress, making extra money through street-corner dancing and vaudeville troupes.
In 1921, she married her second husband – Willie Baker. She was only 15 at the time. It was at this point that Josephine became Josephine Baker – the name that she kept for the rest of her life.
The marriage with Willie didn't last, but Josephine's career began to take off. In 1925, the vaudeville troupe that Josephine was with was booked to play in New York.
Career
Josephine arrived in New York at the time of the Harlem Renaissance. She was performing at the Plantation Club, building a reputation as a featured chorus girl.
By the end of 1925, at the age of 19, Josephine left New York for Paris – to appear in a new revue that was opening at the Théâtre des Champs-Élysées.
Baker became best-known for her performance of the Danse Sauvage – wearing a costume consisting of a skirt made of a string of artificial bananas. This period saw the emergence of Art Deco, and a growing interest in the aesthetic of Africa.
Adding cinema to her list of talents, Baker starred in films such as Siren of the Tropics (1927), Zouzou (1934), Princesse Tam Tam (1935), and Fausse Alerte (1940).
The Resistance
In September 1939, when France declared war on Germany in response to the invasion of Poland, Baker was recruited by the Deuxième Bureau – French military intelligence.
Baker collected what information she could about German troop locations from officials she met at parties. She specialised in gatherings at embassies and ministries, charming people as she had always done, while gathering information.
Her fame enabled her to rub shoulders with those in the know, from high-ranking Japanese officials to Italian bureaucrats, and to report back what she heard.
When the Germans invaded France, Baker left Paris and went to the Château des Milandes, her home in the Dordogne département in the south of France. She housed people who were eager to help the Free French effort led by Charles de Gaulle and supplied them with visas.
As an entertainer, Baker had an excuse for moving around Europe, visiting neutral nations such as Portugal, as well as some in South America. She carried information for transmission to England, about airfields, harbours, and German troop concentrations in the West of France. Notes were written in invisible ink on Baker's sheet music.
Later in 1941, she and her entourage went to the French colonies in North Africa. The stated reason was Baker's health, but the real reason was to continue helping the Resistance. From a base in Morocco, she made tours of Spain. She pinned notes with the information she gathered inside her underwear.
She toured to entertain British, French, and American soldiers in North Africa. The Free French had no organised entertainment network for their troops, so Baker and her entourage managed for the most part on their own. They allowed no civilians and charged no admission.
After the war, Baker received the Croix de guerre and the Rosette de la Résistance. She was made a Chevalier of the Légion d'honneur by General Charles de Gaulle.
Post-war career
In 1949, Baker returned to Paris and continued performing. Her wartime heroics consolidating her as one of France's most beloved performers.
In 1951, she travelled to the US – generating headlines and controversy by refusing to play at racially segregated venues.
She was accused of having Communist sympathies and was barred from working in the US.
She continued to advocate for civil rights and supported the Civil Rights Movement in the US.
Personal life
Although married four times, some of Baker's most significant relationships were with women. Notable women in her life were Clara Smith, and Georges Simenon.
Baker adopted 12 children.
She died in 1975, at the age of 68.