Zachary Quinto is bringing to life the gay purge of Harvard
A true story of persecution and punishment.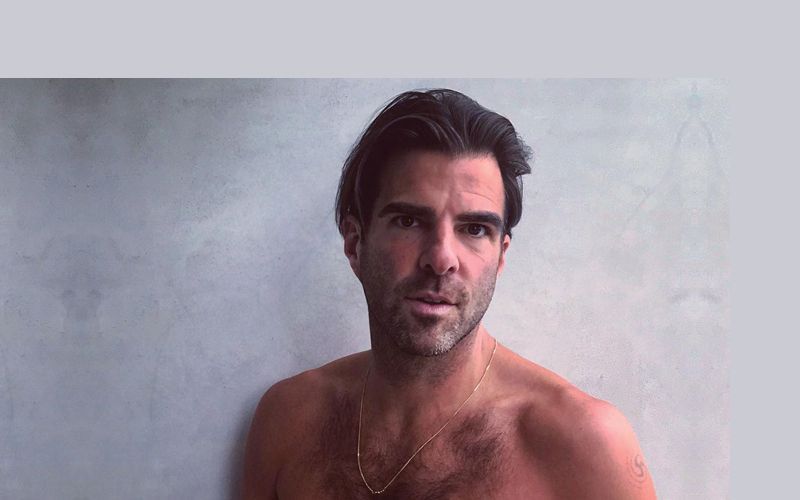 One of Zachary Quinto's next projects will be Secret Court.
This is a scripted podcast – Quinto will star and is also listed as a producer.
The Secret Court referred to by the title of the podcast refers to a real-life incident at Harvard. In 1920, the university formed a secret court so that it could identify and expel gay students. It's a period that is referred to as the Harvard Gay Purge.
The gay purge at Harvard was apparently triggered by the suicide of student Cyril Wilcox. Following the suicide, the university's dean, Chester Noyes Greenough, brought together five university administrators to form the secret court.
The outcome of the university's investigations was eight students were 'condemned' by the court, and a number of other people were also named and implicated during the proceedings.
The eight students condemned by the court were publicly denounced and their names were erased from all official records of the university.
"I'm honored to lend my voice and help amplify the story of these promising young members of the LGBTQ community, who were marginalised and sidelined due to the social intolerance of their day…" said Quinto. "A hundred years later, I am grateful to their contributions and sacrifices, and recognise that I stand on their shoulders today."
Zachary Quinto shares his coming out story
Zachary Quinto is currently on our screens in The Boys in the Band – the film adaptation of the iconic play. In media interviews to promote the production, Quinto has been talking about his own personal journey – he began publicly discussing his sexuality in 2011.
"There was a huge spate of teen suicides that were happening…" said Quinto. "I just felt like I had an obligation at this point."
"That was at a time when a lot of young gay kids were killing themselves around the country because of bullying…" continued Quinto. "The hypocrisy was too much to bear for me to be enjoying this life that I had created for myself and not acknowledging my identity as a gay man."
Quinto said that before that, he feared that "coming out would have potentially had an impact on my career and it wouldn't have been a good one."
What's The Boys In The Band about?
Set in New York City in 1968 – when being gay was still considered to be best kept behind closed doors – a group of friends gather for a birthday party hosted by Michael (Jim Parsons), a screenwriter who spends and drinks too much, in honour of the sharp-dressed and sharp-tongued Harold (Zachary Quinto).
Other partygoers include Donald (Matt Bomer), Michael's former flame, now mired in self-analysis; Larry (Andrew Rannells), a sexed-up commercial artist living with Hank (Tuc Watkins), a school teacher who has just left his wife; Bernard (Michael Benjamin Washington), a librarian tiptoeing around fraught codes of friendship alongside Emory (Robin de Jesús), a decorator who never holds back; and a guileless hustler (Charlie Carver), hired to be Harold's gift for the night.
What begins as an evening of drinks and laughs gets upended when Alan (Brian Hutchison), Michael's straight-laced college roommate, shows up unexpectedly and each man is challenged to confront long-buried truths that threaten the foundation of the group's tight bond.
Quinto, as Harold, gets some of the best lines, and he seems to be enjoying himself as the eye of the storm with the drama swirling around him. It's a compelling performance by Quinto. Harold is a bit of an enigma to us as the audience, and Quinto captures that sense of mystery and intrigue that clearly makes Harold an interesting person to try and get to know.
The Boys in the Band is an essential part of our queer cultural history and well worth watching.
Who is Zachary Quinto?
Early life
Born in 1977, Quinto was born in Pittsburgh.
He began acting while at school, going on to study at Carnegie Mellon University's School of Drama from which he graduated in 1999.
Career
Quinto began working in television, getting his big break in the series Heroes.
In 2007, Quinto was cast as Spock in the reboot of the Star Trek film franchise. His performance in I Am Michael (2015) was also a notable role.
Quinto has also continued to work extensively in theatre and has recently appeared on Broadway in the revival of The Boys in the Band. The film adaptation of that Broadway production is now on Netflix.
Personal life
Quinto began speaking publicly about his sexuality in 2011.
Significant relationships have included Miles McMillan.
The Boys in the Band is now available on Netflix