Bears: A beefy buffet of big boys with bounce.
Get to grips with girthy guys.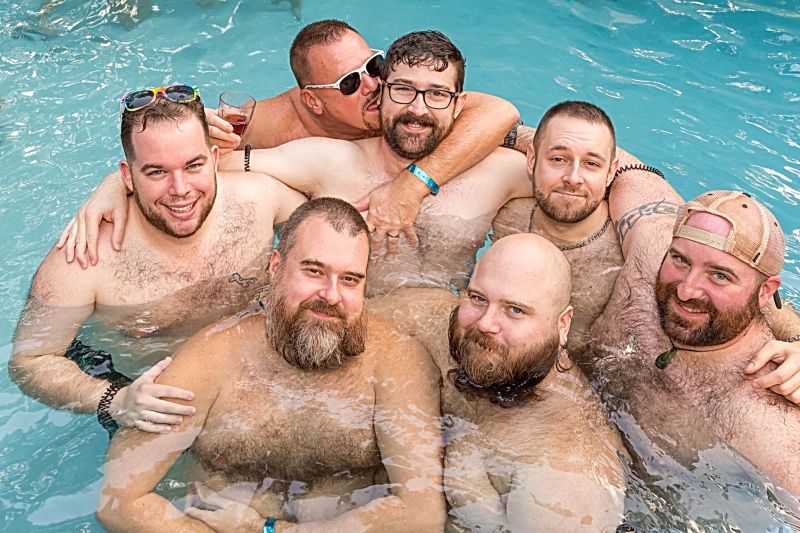 When is being a "bear" a style and political statement, and when is it just an excuse for eating too many pies?
A rhetorical question perhaps, but personal taste, desire and human sexuality is so self-evidently complex and ambiguous that it can be quite confusing  –  one man's bear is another man's overweight uncle.
It is, of course, impossible to predict or even understand what attracts one person to another  -  often you see couples that are quite similar to each other (like-attracts-like) or that are completely poles apart (opposites attract). Some people go for personality, and some go for beauty over brains.
The big muscles and masculine persona traditionally associated with bears can often be a way of acting-out against all of those insecurities that many gay men have had to grapple with when growing up or trying to avoid the bullies at school. However, if you're of a slimmer build, or a bit more androgynous in your sexuality, then the hyper-masculine role-play of bears can in itself be a bit intimidating.
The bottom line is that it doesn't really matter what you go for, what turns you on or turns you off. You've got to find what's right for you. If that means taming a few bears in the process then it's worth a try.
Bear Art
Bobo Bear
If a muscle-bear turns your head, then you'll probably want to check out Adam from Bobo Bear and his equally lovable creator Roberto.
We asked Roberto what inspired his adorable creation and what's coming up in the Bobo Bear universe.
Where did the characters in the Bobo Bear Universe come from?
Honestly, my main character Adam is just my dream man. A big, goofy and sexy bear, who's cheeky and gentle. The type of guy you can cuddle up to at night. He wasn't based on anybody that I know or that is even real, but I have met a few guys with something in common with him!
The Bobo Bear name came from a nickname my old friends gave me about 20 years ago – Bobo means means 'silly' in Spanish. Bobo Bear is kind of like saying 'a silly bear'. It fits my personality perfectly but also embodies everything about the Bobo Bear Universe – goofy guys having fun together and sharing this idea of love, that we all aspire for.
Fun fact, Adam Bobo and Ben – his ginger boyfriend – are also the central protagonists of an erotic comic that I've started. I sketched it out but never finished it. It was like a parody of some magical anime I saw as a kid. Ben, a shy baker was given magical powers to transform into Adam. In his cheeky bear form, Adam helps sexually confused or repressed men by having sex with them. Rest assured, Adam was planning to travel globally, in his mission of sexual liberation.
After I created the first sketches of Adam – thanks to the encouragement of a friend – I decided to develop the character. I depicted him in a variety of situations, and then started sharing these depictions through Instagram and then on printed t-shirts. Little by little, people just started to fall in love with Adam, and I wanted to start showing off his cheeky personality. So, I started creating some pin-up style images of him.
I always like to keep a smile on his face, so people see that he's a good and lovable guy. He's sexy, but not in a sleazy way – he's the cute bundle of handsomeness that you want to take home. That's why I think people love him so much.
When did you start drawing?
I think it's always been a passion of mine, along with anime. My mother told me that I did my first doodle at age two, and even then it was of Candy Candy – an anime character. I guess I was destined to create my own universe one day.
For many years, it was an on-and-off thing though, due to a demanding job back home. Only when I moved to London and I started my new life did I gain these new aspirations. I was inspired to start drawing men.
You've expanded Adam's world to include a universe of friends?
It just felt natural to give Adam characters to interact with. He was very lonely – he's a sociable bear by nature.
First of all, I developed the character of Ben. I wanted Adam to have a boyfriend. Ben is an adorable redhead, that suits Adam perfectly. They make such a cute couple!
After Ben, I made Dave – a silver daddy type, Bobo the bear – the adorable animal, Chuck, and Mike. I wanted the Bobo Bear universe to be inclusive and representational of a wide cross-section of society.
Personally, I don't think that we should have these societal divisions. and so I wanted to make my universe a place where all of these representations showed love. I'm hoping to expand the universe, bringing in further diversity to the world of Bobo Bear. Tackling the issues of body image and race, in the process.
So many people come to me saying "This character is me!" or "It looks exactly like a friend of mine!" I love how identifiable my characters are. It's the reason that I put them in everyday situations faced by people in the LGBTQ community. I want to make them identifiable and encourage that sense of acceptance for my audience.
Adam, by far, is my 'Mickey Mouse' – he's my most beloved character and people definitely want to see more of him.
Is Adam based on yourself?
I wish he was based on me! Sometimes I use the mirror to create his facial expressions or to check some details. So, I guess I must be putting something of myself into his character. Like his little smirk or the expression in his eyes.
Where can our readers find Bobo Bear, if they want an Adam of their very own?
I'm always posting on social media, so make sure to follow me there for new photos every day and useful links.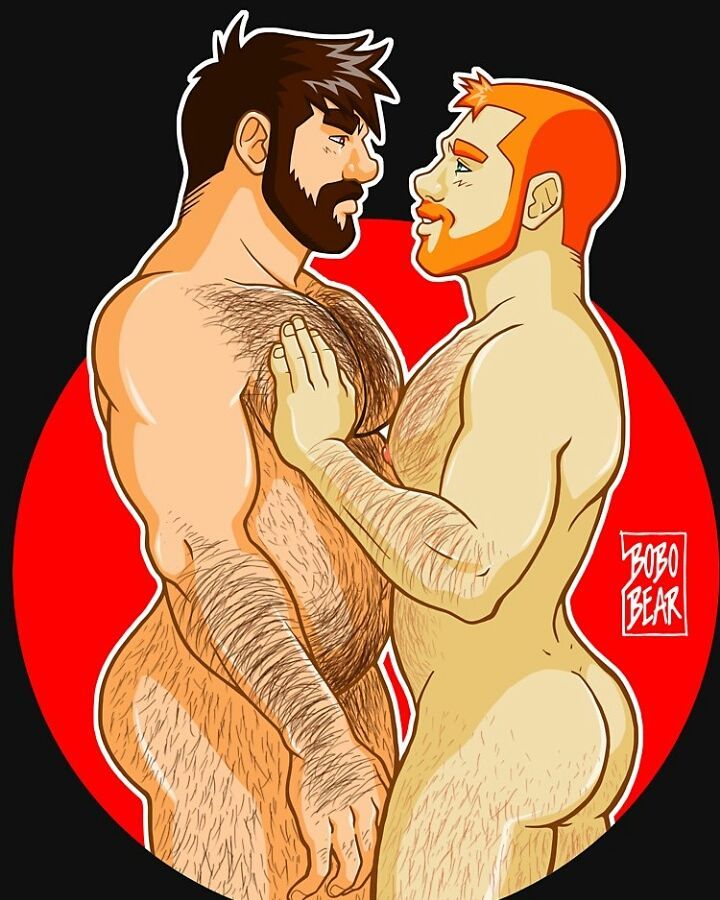 Bear events for your travel wish-list
Key West Bear Weekend
When to go: Held annually in early November - check the website for the dates and the official programme.
Where to stay:
What to do:
The official programme of Bear Weekend will keep you plenty of busy, but some additional options for your itinerary could include: