100 Heroes: Christopher Isherwood
The gay man who wrote iconic queer novels.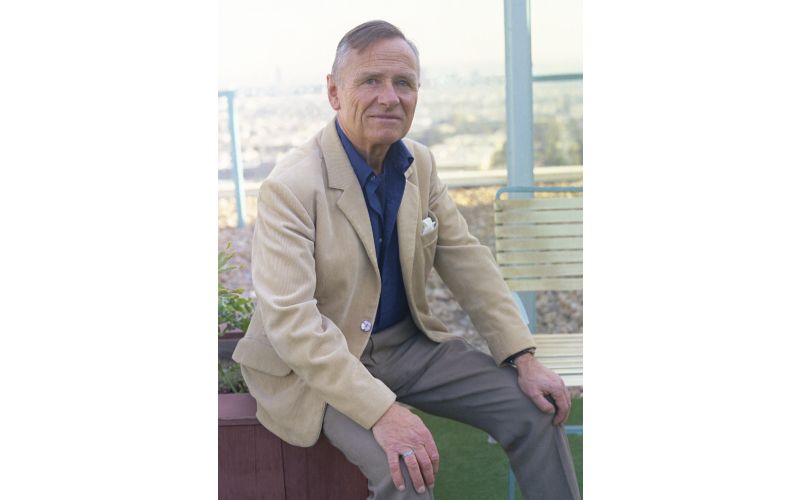 Christopher Isherwood was an Anglo-American novelist, playwright, screenwriter, autobiographer, and diarist.
His best-known works include Goodbye to Berlin (1939), a semi-autobiographical novel which inspired the musical Cabaret, A Single Man (1964), and the memoir Christopher and His Kind (1976).
Early life
Isherwood was born in 1904 in Cheshire, England.
Isherwood studied history at Cambridge.
Berlin
Isherwood published his first novel, All the Conspirators, in 1928.
In 1929, Isherwood visited his friend W.H. Auden in Berlin.
In Berlin, Isherwood completed his second novel, The Memorial (1932), about the impact of the First World War on his family and his generation. He also continued his habit of keeping a diary. In his diary, he gathered raw material for Mr. Norris Changes Trains (1935), inspired by his real-life friendship with Gerald Hamilton, and for Goodbye to Berlin (1939), his portrait of the city in which Hitler was rising to power—enabled by poverty, unemployment, increasing attacks on Jews and Communists, and ignored by the defiant hedonism of night life in the cafés, bars and brothels. Goodbye to Berlin included stories published in the leftist magazine, New Writing, and it included Isherwood's 1937 novella Sally Bowles, in which he created his most famous character, based on a young Englishwoman, Jean Ross, with whom he briefly shared a flat.
In America, the Berlin novels were published together as The Berlin Stories in 1945.
In 1951, Goodbye to Berlin was adapted for the New York stage by John van Druten using the title I Am a Camera, taken from Isherwood's opening paragraphs. Julie Harris became a star as Sally Bowles, winning the Best Actress Tony Award, and reprising her role in the 1955 film I Am a Camera.
The play inspired the hit Broadway musical Cabaret (1966), winner of eight Tony Awards, including Best Musical and Best Director.
Liza Minnelli starred in the film adaptation of Cabaret in 1972, and became an international superstar. Cabaret won eight Academy Awards including Best Actress and Best Director.
In 1932, Isherwood started a relationship with a young German, Heinz Neddermeyer. They fled Nazi Germany together in May 1933, traveling initially to Greece. Neddermeyer was refused entry to England in January 1934, launching an odyssey in search of a sexual homeland where they could settle together. They lived in the Canary Islands, Copenhagen, Brussels, Amsterdam and Sintra, Portugal, while trying to obtain a new nationality and passport for Neddermeyer. In May 1937, Neddermeyer was arrested by the Gestapo for draft evasion and reciprocal onanism.
In 1929, Isherwood and Auden decided to emigrate to the United States.
United States
While living in Hollywood, California, Isherwood befriended Truman Capote, an up-and-coming young writer who would be influenced by Isherwood's Berlin Stories, most specifically in the traces of the story "Sally Bowles" that surface in Capote's famed novella, Breakfast at Tiffany's.
Isherwood also befriended Dodie Smith, a British novelist and playwright who had also moved to California, and who became one of the few people to whom Isherwood showed his work in progress.
Isherwood became an American citizen on 8 November 1946.
He began living with the photographer William "Bill" Caskey. In 1947, the two traveled to South America. Isherwood wrote the prose and Caskey took the photographs for a 1949 book about their journey entitled The Condor and the Cows.
On Valentine's Day 1953, at the age of 48, he met the teenager Don Bachardy among a group of friends on the beach at Santa Monica. Reports of Bachardy's age at the time vary, but Bachardy later said, "At the time I was probably 16." Despite the age difference, this meeting began a partnership that, though interrupted by affairs and separations, continued until the end of Isherwood's life.
The 30-year age difference between Isherwood and Bachardy raised eyebrows at the time, with Bachardy, in his own words, "regarded as a sort of child prostitute," but the two became a well-known and well-established couple in Southern Californian society with many Hollywood friends.
Isherwood and Bachardy lived together in Santa Monica for the rest of Isherwood's life. Isherwood was diagnosed with prostate cancer in 1981, and died of the disease on 4 January 1986 at his Santa Monica home, aged 81.