100 Heroes: David, King of Israel
The gay man who killed Goliath.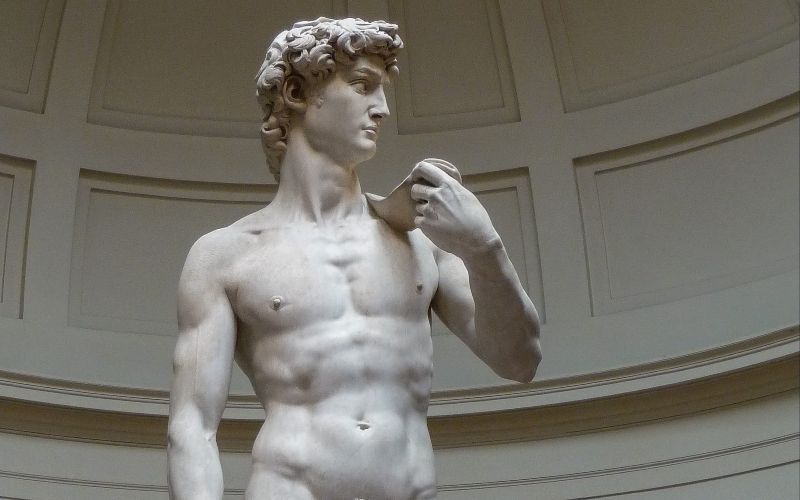 David is described in the Hebrew Bible as the third king of the United Monarchy of Israel and Judah, after Ish-bosheth.
In the biblical narrative, David is a young shepherd who gains fame first as a musician and later by killing the enemy champion Goliath. He becomes a favourite of King Saul and a close friend of Saul's son Jonathan.
Worried that David is trying to take his throne, Saul turns on David. After Saul and Jonathan are killed in battle, David is anointed as King. David conquers Jerusalem, taking the Ark of the Covenant into the city, and establishing the kingdom founded by Saul.
He is honoured in the prophetic literature as an ideal king.
Historians of the Ancient Near East agree that David probably existed around 1000 BCE, but that there is little that can be said about him as a historical figure. It was initially thought that there was no evidence outside of the Bible concerning David, but the Tel Dan Stele, an inscribed stone erected by a king of Damascus in the late 9th/early 8th centuries BCE to commemorate his victory over two enemy kings, contains a phrase in Hebrew that most scholars translate as "House of David". Ancient Near East historians generally doubt that the united monarchy as described in the Bible existed.
David is discussed in the Quran as a major prophet and figures in Islamic oral and written tradition as well.
David and Jonathan
The biblical text does not explicitly depict the nature of the relationship between David and Jonathan. The traditional and mainstream religious interpretation of the relationship has been one of platonic love and an example of homosociality. Some later Medieval and Renaissance literature drew upon the story to underline strong personal friendships between men.
In modern times, some scholars have emphasised what they see as elements of homoeroticism in the story.
The relationship between David and Jonathan is mainly covered in the Hebrew Bible Book of Samuel. The episodes belong to the story of David's ascent to power.
David, the youngest son of Jesse, kills Goliath at the Valley of Elah where the Philistine army is in a standoff with the army of King Saul – Jonathan's father. David's victory begins a rout of the Philistines who are driven back to Gath and the gates of Ekron. Abner brings David to Saul while David is still holding Goliath's severed head. Jonathan, the eldest son of Saul, has also been fighting the Philistines. Jonathan takes an immediate liking to David and the two form a covenant:
Now it came about when he had finished speaking to Saul, that the soul of Jonathan was knit to the soul of David, and Jonathan loved him as himself. Saul took him that day and did not let him return to his father's house. Then Jonathan made a covenant with David because he loved him as himself. Jonathan stripped himself of the robe that was on him and gave it to David, with his armour, including his sword and his bow and his belt.
In a battle for power, Saul turns against David. Jonathan and David renew their covenant to each other. Both Saul and Jonathan are killed in battle. David learns of Saul and Jonathan's death and chants a lament, which in part says:
Saul and Jonathan, beloved and pleasant in their life, And in their death they were not parted; They were swifter than eagles, They were stronger than lions … How have the mighty fallen in the midst of the battle! Jonathan is slain on your high places. I am distressed for you, my brother Jonathan; You have been very pleasant to me. Your love to me was more wonderful than the love of women. How have the mighty fallen, And the weapons of war perished!