100 Heroes: Derek Jarman
The gay man who became an iconic queer film-maker.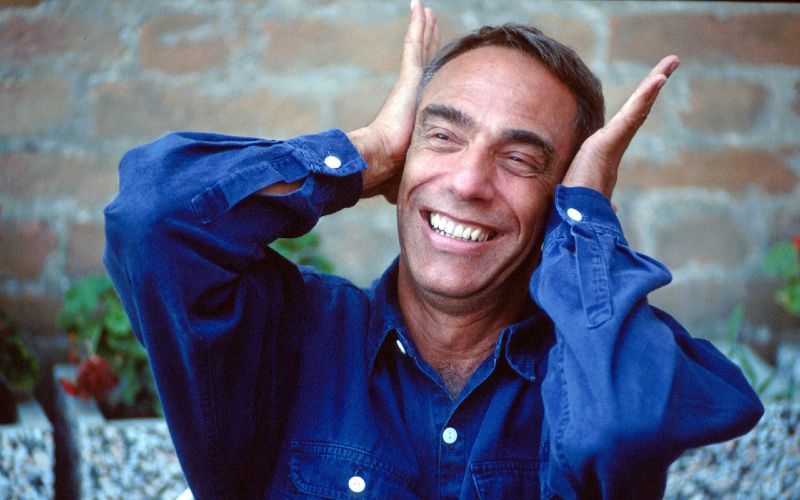 Derek Jarman was renowned as a gay rights activist. His best-known films include Sebastiane, Caravaggio, and Edward II.
He died in 1994.
Caravaggio
One of Jarman's most significant films is Caravaggio, released in 1986.
We caught up with BFI curator Will Fowler for a behind-the-scenes look at the film.
What makes Jarman a filmmaker whose work remains of interest to today's audiences?
Jarman was creatively, politically and personally motivated, and he pursued his interests with enormous energy and individual vision. This has ensured that his work, and perhaps even more so his name, has remained not just of interest to art and cinema audiences but known to the general public.
He has come to symbolise integrity when this can often feel absent from the creative environment. The gradually increasing visibility of his Super 8 films, and other creative works, has also meant that there's still much more to discover about him, which is tantalising.
If we look at Caravaggio in the context of Jarman's career, this is his sixth film  –  is this where Jarman really begins to hit his stride as a filmmaker?
Caravaggio chimed with audiences in powerful ways. It looked beautiful and sophisticated, more like an opera or a piece of theatre, and this helped audiences to think of him as an artist.
This is when the concept of Jarman as an 'artist' really began to take hold, but it also critiqued capitalism by way of the anachronistic golden calculator that is used by one of the cardinals to count up his money.
It also engaged with questions around gay representation, and so it also upheld the view that Jarman was a radical too. It's certainly significant for these reasons, and it signalled the point at which he almost entered the mainstream.
Jarman has a bit of a metaphysical relationship with reality, and Caravaggio gives us numerous examples where Jarman isn't bound by technicalities such as historical accuracy. How did audiences at the time respond to Jarman's films?
Jarman's interests in metaphysics, and lack of interest in historical reality, went back to his reading of Jung and other more historical texts about alchemy in the late 1960s and early 70s. It also chimed with new ideas about postmodernism and the plasticity of the image via fashion, design, and pop videos in the 1980s. As such, his work at that time resonated extremely well with the growing ideas and preoccupations of that period.
He probably also helped to introduce such notions to audiences who weren't so engaged with pop videos, and so there was a bit of crossover - classicism meeting the new avant-garde, if you like.
His work may have challenged some people, but I suspect they were very prepared to go there once they'd bought their cinema ticket.
What are some of the key creative influences that Jarman has incorporated into Caravaggio?
Caravaggio's paintings were, of course, a key driver to the film - stunning replicas were created by his art director Christopher Hobbs. The lighting and colour in these paintings directly informed the film's cinematography.
Jarman typically introduced multiple influences and references into his work, and it's notable that he cast new underground filmmakers Richard Heslop and Cerith Wyn Evans in cameo roles  -  the latter now a very successful artist in his own right.
Jarman was influenced by the new wave of Super 8 filmmakers  –  that had, in turn, also been influenced by him - and their choppy, more abrasive style was brought into his next film, The Last of England.
Pasolini was also a key influence on Jarman's more classically composed work.
In terms of the landscape of LGBTQ film, where does Caravaggio sit? Is it a great queer film, or is it an important work from a great queer filmmaker?
Jarman's more overtly queer work really comes later - with Edward II, and The Garden  -  when he was battling against Margaret Thatcher and the Conservative Government's Section 28, which said that homosexuality should not be promoted as a valid form of relationship.
But Caravaggio was still important in highlighting the gay identity of the 16th century Italian painter, and it contributed to a fuller, more diverse, inclusive, and real sense of history.
It's both a great queer film and an important work from a great queer filmmaker.