When is the gay Naked Camp in 2024?
The Gathering is an annual get-together for naturists and guys that like to get their gear off.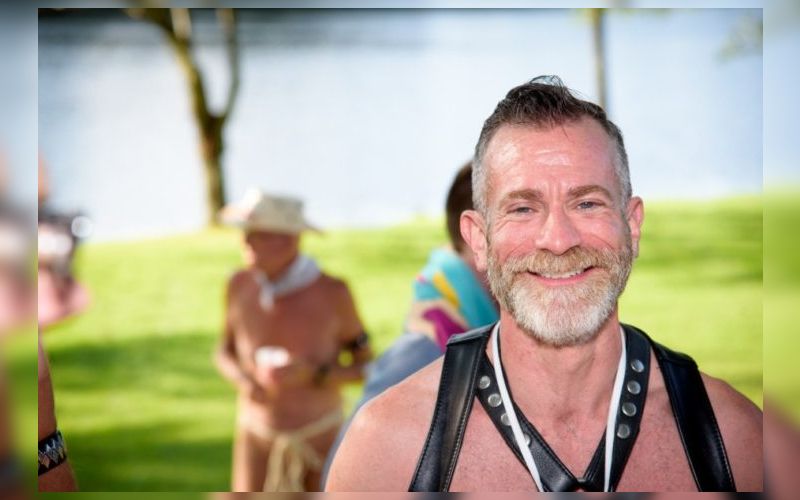 Naked Camp is an annual summer camp organised by GNI – Gay Naturists International.
Held at a camping ground at Poconos – about 90 minutes from New York City – the camp is normally held in August each year.
Dates for 2024 have not yet been confirmed.
"The event takes place in a camp in the Pocono Mountains of Pennsylvania…" explains Chris Riss, a regular camp attendee from Wilton Manors in Florida. "There's woods, lake, 80 cabins with 10 beds in each, two pools, volleyball courts, tennis courts, weight room, zip line, dining hall, theatre, disco, and all the amenities you need for a camp."
Each year, about 800 guys attend.
"Cabins are shared…" confirms Gene Evangelist from Gay Naturists. "If you register early enough, you can select a cabin based on age, or interests, such as the leather barracks, or yoga cabin. A number of Australians and Canadians have their own cabins, and it's nice because they frequently throw these hot little cocktail parties.
"Everyone is naked from the time they arrive to the time they leave…" continues Chris. "Each day, there are three buffet style meals in the dining hall. You can do whatever you like during the day  –  there's activities available such as yoga, kayaking, lots of sports and games, or you can just hang out at the pool. There's also a range of fetish classes available. There's social drinks before dinner, and after dinner there's always shows or contests. The official entertainment is followed by parties at the cabins, plus there's the disco for some dancing. Across the other side of the lake there are three unoccupied cabins that are reserved for late night fun."
"People come back many, many years in a row – not only to have a great time, but to connect with guys they didn't get to spend as much time with as they wanted the previous year…" says Gene. "It really is about meeting guys and developing relationships. There's something and someone for everyone at Naked Camp."
"It's as sexual as you want it to be…" adds Chris. "Some guys have little interest in the sexual opportunities, and just enjoy being naked outside with hundreds of other naked gay guys. Sex is discouraged in the more public places like the dining hall and the theatre  –  not everyone wants to witness such activity while eating or enjoying a show. But there's endless places to have sex and lots of different settings available  -  dungeons, cabins, slings, by the bonfire. Plus, there's also scheduled sex-fuelled events such as piss parties, fetish classes, and the dirty disco."
"For some guys, this is their first time being naked in a crowd…" explains Gene. "We enable them to warm up to the experience by wearing underwear or a jock or something to get acclimated when they first arrive. But, ultimately, it's a nude rather than clothing-optional theme. As time goes on, even guys who were new to nudity end up happily naked. If it gets chilly, a hoodie, sweats, a union suit, or chaps, become acceptable attire."
"I think all gay guys would like nude events if they were at them…" says Chris. "The tough part is getting them over their inhibitions to get naked, which keeps them from coming to camp. Everyone is a little apprehensive at first, since we all think we've got physical flaws  –  too fat, too skinny, small dick, saggy ass, you name it. Once you arrive, get naked, and walk outside among the hundreds of other naked guys, you realise that nobody is staring and pointing at your perceived imperfection. Everyone has flaws of some sort, and nobody at camp cares. Then you relax, lose your inhibitions that have been holding you back your whole life, and you just start enjoying the fraternity, fellowship, fun, and fucking. This is a unique, total immersion, week-long, outdoor, large group experience with other naked gay men."
Listen to Nick from GNI talk about his exploration of naturism and why he loves the annual Naked Camp.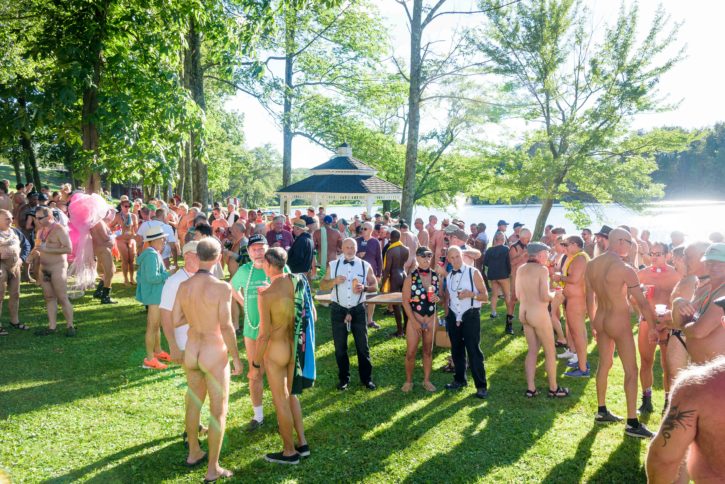 After Dark edition
If the idea of a naked camp appeals to you, check out our After Dark edition and admire every inch of the men that attended recent events.