100 Heroes: General Viscount Horatio Herbert Kitchener
The gay man who was a ruthless warrior.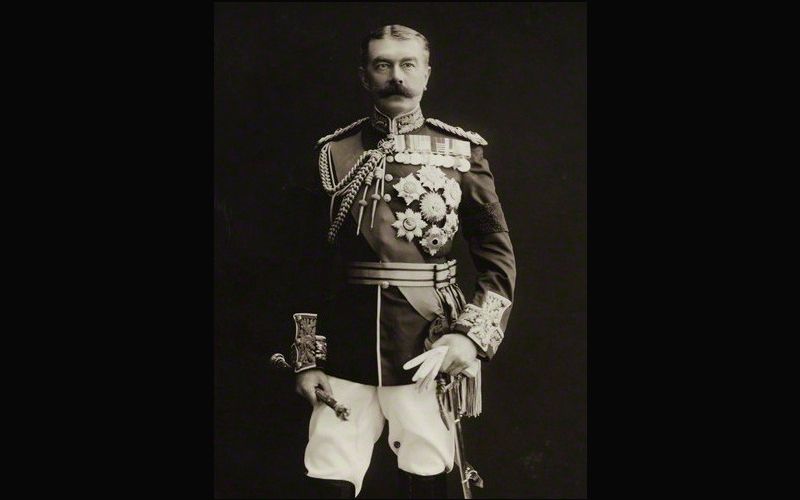 Field Marshal Horatio Herbert Kitchener was a senior British Army officer and colonial administrator who won notoriety for his imperial campaigns, most especially his scorched earth policy against the Boers and his establishment of concentration camps during the Second Boer War in which around 28,000 men, women and children died. He also played a central role in the early part of the First World War.
Early life
Kitchener was born in 1850 in Ireland.
His father was a military officer, and Kitchener was educated in Switzerland and then at the Royal Military Academy at Woolwich.
Kitchener joined a French field ambulance unit in the Franco-Prussian War, and he was commissioned into the Royal Engineers in 1871.
He served in Palestine, Egypt and Cyprus as a surveyor, learned Arabic, and prepared detailed topographical maps of the areas.
Egypt
In 1883, Kitchener was dispatched to Egypt where he took part in the reconstruction of the Egyptian Army.
Fluent in Arabic, Kitchener was seen as an accomplished soldier – he was promoted a number of times and given additional responsibilities.
Sudan
In 1896, the British Prime Minister, Lord Salisbury, ordered Kitchener to lead an invasion of northern Sudan. Britain was seeking to consolidate its control of the region in the face of similar ambitions by France.
Kitchener's victories in northern Sudan were celebrated in the UK, but his ruthlessness gave him a reputation for brutality.
In 1898, Kitchener was appointed as Governor-General of the Sudan.
Anglo-Boer War
In 1899, during the Second Boer War, Kitchener was sent to South Africa with a large contingent of British reinforcements. Kitchener became second-in-command of the British forces. By 1900, he had assumed overall command.
Kitchener inherited control of the concentration camps that had been established by his predecessors. The concentration camps were to contain the families from the farms that had been destroyed by the British forces in their campaign against the Boer commandos. It was a strategy that Kitchener expanded. The camps lacked space, food, sanitation, medicine, and medical care – leading to rampant disease and a very high death rate. Around 28,000 people died in the concentration camps – most of them children.
The war ended in 1902. The British had won.
Post-war
Following the victory in South Africa, Kitchener returned to the UK where he received a hero's reception.
He subsequently spent nine years in India as Commander-in-Chief.
In 1911, Kitchener returned to Egypt as British Agent and Consul-General.
First World War
At the outset of the First World War, Kitchener was appointed Secretary of State for War.
In 1916, Kitchener set off to meet with Tsar Nicholas II to discuss the deteriorating situation on the Eastern Front.
He was travelling on the HMS Hampshire. En route, the ship struck a German mine. The Hampshire sank near the Orkney Islands – 737 men died, 12 survived. Kitchener's body was never recovered.
Kitchener was widely mourned, his death seen as a major blow to the British war effort.
Personal life
From the very beginnings of his career, Kitchener was known for surrounding himself with young officers – referred to as Kitchener's band of boys.
He had a reputation for enthusiastically pursuing young men for sex.
One of Kitchener's most significant relationships was with Captain Oswald Fitzgerald. Kitchener appointed Fitzgerald as his aide-de-camp. They were noted as being inseparable. Fitzgerald died with Kitchener on the sinking of the Hampshire.