In 'Horseplay' Horse-Hung 'Straight' Friends Have Gay Sex
You're probably going to want to add this to your watch-list.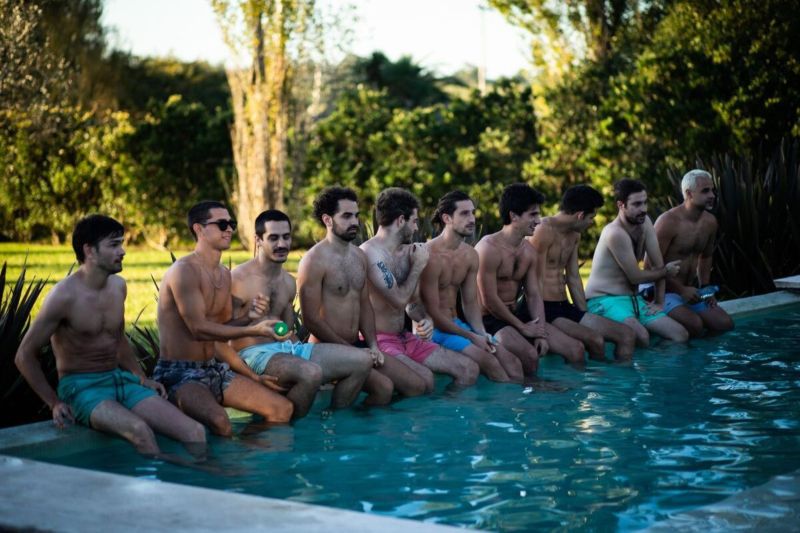 Marco Berger is back and better than ever with his latest movie Horseplay. This Brazilian director last assembled a house of seemingly straight male friends for a dick filled vacation in 2016's Taekwondo. With that movie the director delivered his best nude work to date at the time - namely the famous scene of Juan Manuel Martino peeling an orange in front of his friends with his massive uncut…fruit bowl… on display. We loved Taekwondo, but with Horseplay, Marco has truly outdone himself. Read on.
Horseplay is about a group of male friends who convene at a vacation home for a seemingly plutonic all male getaway. However, as we know, boys will be boys, and in Berger's world, these straight men shed their inhibitions real damn quick. They come up with inventive ways to explore their masculinity with each other in a series of escalating games. Finally the sexual tension proves to be too much, and some of the men end up having gay sex with each other. Need to put those big dicks to use somehow.
In one notable scene the men all playfully pile suds onto Augustín Machta cock in the tub as someone films on their phone.
But in the movie's wildest scene, the men go as far as they can without doing it, daring each other to simulate gay sex on one another. One bends over bare assed as three friends line up behind him to thrust their exposed junk into his hairy ass.
Horseplay is an incredible movie, and if you know what's good for you, you will catch each and every second of these full uncensored scenes.
See all of the uncensored hotness