100 Heroes: Ivor Gurney
The gay man who became an important poet and composer.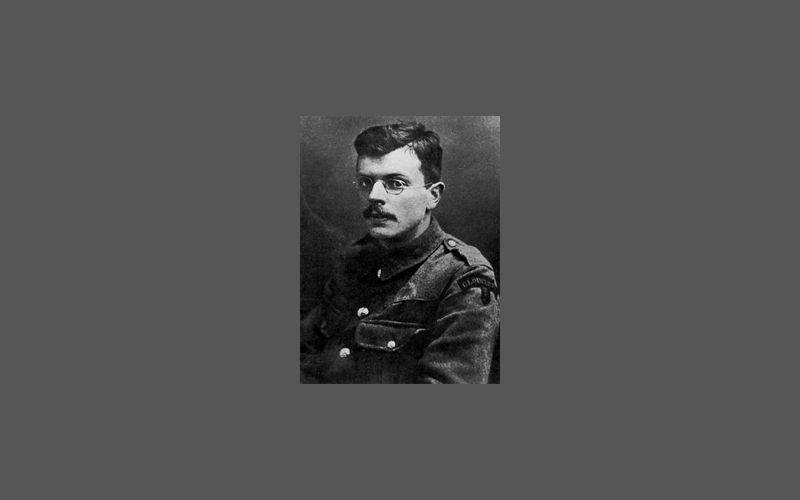 Ivor Gurney was an English poet and composer.
He experienced mental health issues through much of his life and spent his last 15 years in psychiatric hospitals.
Life
Gurney was born in Gloucester in 1890.
He showed early musical ability. He sang as a chorister at Gloucester Cathedral. Gurney began composing music at the age of 14, and won a scholarship to the Royal College of Music in 1911.
Gurney possessed a dynamic personality, but he had been troubled by mood swings that became apparent during his teenage years.
First World War
Gurney's studies were interrupted by World War I, when he enlisted as a private soldier in the Gloucestershire Regiment in February 1915.
At the front, he began writing poetry seriously. He was in the midst of writing the poems for what would become his first book, Severn and Somme, when he was wounded in the shoulder in April 1917. He recovered and returned to battle, still working on his book and composing music.
In September 1917, Gurney was gassed and sent to the Edinburgh War Hospital.
After his release from hospital, he was posted to Seaton Delaval, a mining village in Northumberland, where he wrote poems.
His volume Severn and Somme was published in November 1917.
Mental health
In March 1918, Gurney suffered a serious breakdown. He was hospitalised, and slowly regained some of his emotional stability. As a result of the breakdown, he was honourably discharged from the army.
Gurney seemed to thrive after the war and was regarded as one of the most promising men of his generation, but his mental distress continued to worsen. However, by 1922, his condition had deteriorated to the point where his family had him declared insane.
It has been speculated that Gurney's mental problems may have resulted from syphilis, contracted either while he was a music student before the war, or perhaps while serving as a soldier in France.
Gurney spent the last 15 years of his life in psychiatric hospitals.
Poetry
Gurney is regarded as one of the great World War I poets, and like others of them, he often contrasted the horrors of the front line with the beauty and tranquillity of his native English landscape.
Gurney offered a complex, wry, unheroic view of the soldierly world of the Western Front – presenting an individual experience.
Personal life
We don't have a lot of detail about his personal life, but it is broadly accepted that he was a gay man.
Some of his war poetry has been interpreted as love letters to the men in his life.
Death and legacy
Gurney died in 1937, aged 47. He died of tuberculosis while still a patient at the City of London Mental Hospital.
In 1985, Gurney was among 16 Great War Poets commemorated on a slate stone unveiled in Westminster Abbey's Poet's Corner.