100 Heroes: J. M. Barrie
The gay man who showed us the power of imagination.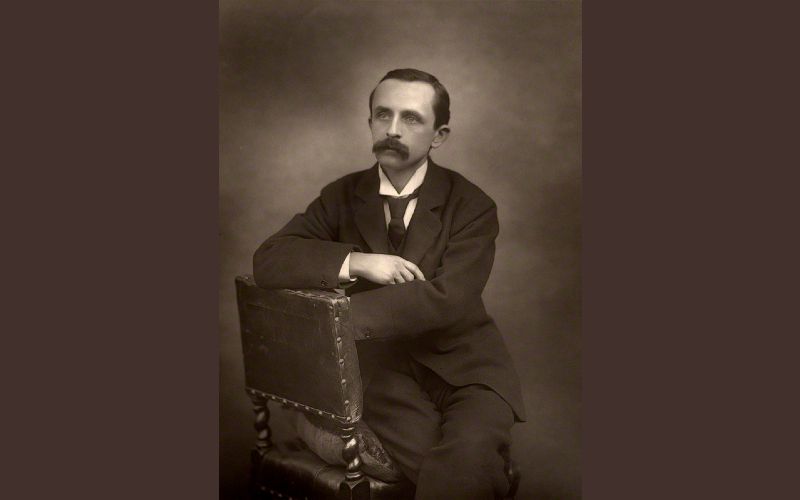 J.M. Barrie was a Scottish novelist and playwright, best remembered as the creator of Peter Pan.
He was born and educated in Scotland and then moved to London, where he wrote a number of successful novels and plays. There he met the Llewelyn Davies boys, who inspired him to write about a baby boy who has magical adventures in Kensington Gardens, then to write Peter Pan about an ageless boy and an ordinary girl named Wendy who have adventures in the fantasy setting of Neverland.
Early life
James Matthew Barrie was born in 1860 in a Scottish village called Kirriemuir.
He was a small child and drew attention to himself with storytelling. He grew to only 5 ft 3​1⁄2 in. (161 cm).
Career
Barrie went on to study Literature at the University of Edinburgh. While studying, he began writing drama reviews for an Edinburgh newspaper.
After graduating, Barrie began working as a journalist, while also continuing his passion for writing.
His first novel was published in 1888. He also began writing for the theatre – a number of his plays were staged successfully – and his reputation began to grow.
Peter Pan
The character of Peter Pan first appeared in Barrie's novel The Little White Bird, published in 1902.
Barrie then wrote a play called Peter Pan, or The Boy Who Wouldn't Grow Up – this had its first performance in 1904.
In 1911, Barrie developed the Peter Pan play into the novel Peter and Wendy.
The Llewelyn Davies family
The Llewelyn Davies family played an important part in Barrie's literary and personal life.
Arthur and Sylvia Llewelyn Davies had five sons – George, Jack, Peter, Michael, and Nicholas.
Barrie became acquainted with the family in 1897, meeting George and Jack with their nanny in London's Kensington Gardens. He lived nearby and often walked his dog in the park.
Barrie became a regular visitor at the Davies household and a common companion to Sylvia and her boys.
The character of Peter Pan was invented to entertain George and Jack – Barrie amused the boys with tales of how their younger brother Peter could fly.
Arthur Llewelyn Davies died in 1907, and Barrie became even more involved with the Davies family, providing financial support to them.
Following Sylvia's death in 1910, her will specified that Barrie was to be appointed as trustee and guardian to the boys.
George was killed in action in 1915 during the First World War. Michael drowned in 1921. Barrie remained close with the surviving boys.
Death
Barrie died of pneumonia in 1937.
Personal life
There's not much known about the sexuality of Barrie. He was married to a woman, but they divorced and documentation indicates that the marriage was unconsummated.
Barrie was known to be drawn to young men. Beyond his close relationship with the Llewelyn Davies boys, Barrie also befriended other boys and young men.
Barrie engaged with an extensive correspondence with the author Robert Louis Stevenson. The two never met, but Barrie's letters to Stevenson profess his love for the older man.