100 Heroes: Ludwig II of Bavaria
The gay man who became King.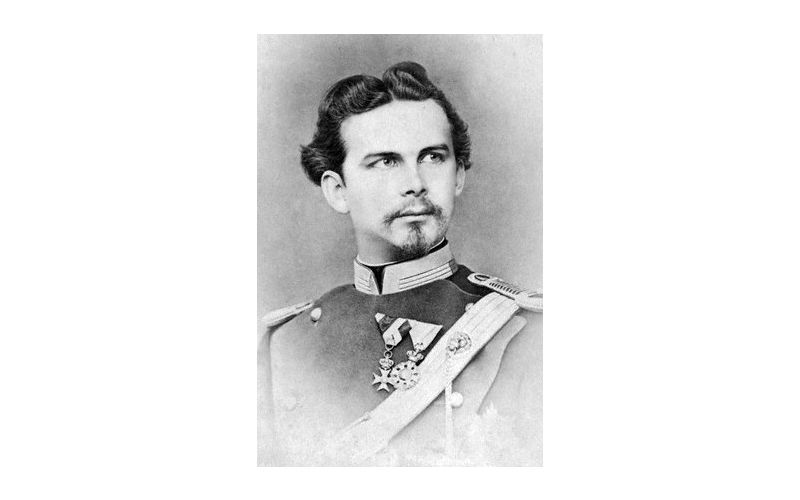 Ludwig II was King of Bavaria from 1864 until his death in 1886. He is sometimes called the Swan King or der Märchenkönig – the Fairy Tale King.
Ludwig succeeded to the throne aged 18. Two years later, in 1866, Bavaria and Austria fought a war against Prussia lasting only a matter of weeks, which they lost. However, in the Franco-Prussian War of 1870 Bavaria sided with Prussia against France, and after the Prussian victory it became part of the new German Empire led by Prussia. Though Bavaria retained a degree of autonomy on some matters within the new German Reich, Ludwig increasingly withdrew from day-to-day affairs of state in favour of extravagant artistic and architectural projects. He commissioned the construction of two lavish palaces and Neuschwanstein Castle, and he was a devoted patron of the composer Richard Wagner.
This extravagance was used against him to declare him insane, an accusation which has since come under scrutiny.
Today, his architectural and artistic legacy includes many of Bavaria's most important tourist attractions.
Early life
Born at Nymphenburg Palace in 1845, Ludwig was the elder son of The Crown Prince and Crown Princess of Bavaria, who became King and Queen in 1848 after the abdication of the former's father, Ludwig I, during the German Revolution.
Early reign
Crown Prince Ludwig was in his 19th year when his father died after a three-day illness, and he ascended the Bavarian throne. Although he was not prepared for high office, his youth and brooding good looks made him popular in Bavaria and elsewhere. He continued the state policies of his father and retained his ministers.
His real interests were in art, music, and architecture. One of the first acts of his reign, a few months after his accession, was to summon Wagner to his court. Also in 1864, he laid the foundation stone of a new Court Theatre, now the Staatstheater am Gärtnerplatz (Gärtnerplatz-Theater).
Ludwig was notably eccentric in ways that made serving as Bavaria's head of state problematic. He disliked large public functions and avoided formal social events whenever possible, preferring a life of seclusion that he pursued with various creative projects.
Austro-Prussian and Franco-Prussian Wars
In the Austro-Prussian War, which began in 1866, Ludwig supported Austria against Prussia. Austria and Bavaria were defeated, and Bavaria was forced to sign a mutual defence treaty with Prussia. When the Franco-Prussian War broke out in 1870, Bavaria was required to fight alongside Prussia. After the Prussian victory over France, Bismarck moved to complete the Unification of Germany.
In November 1870, Bavaria joined the North German Confederation and thus lost its status as an independent kingdom.
Engagement and sexuality
The greatest stress of Ludwig's early reign was pressure to produce an heir.
Although he was briefly engaged in 1867, Ludwig never married.
It is known from his diary – which began in the 1860s – as well as private letters, and other surviving personal documents that he was a gay man.
Bavaria was a very socially conservative and religious place at that time – same-sex sexual activity was taboo and a criminal offence.
Risking scandal, Ludwig nevertheless had a number of significant relationships with men throughout his reign. These included his chief equerry and Master of the Horse, Richard Hornig, the Bavarian prince Paul von Thurn und Taxis, the Hungarian theatre actor Josef Kainz, and his courtier Alfons Weber.
Deposition
In 1886, Ludwig by deposed by his uncle and senior officials. He was arrested and declared insane.
Death
Days after his arrest, Ludwig was found dead – along with his physician, Dr Gudden. The two men had gone for a walk along the shore of Lake Starnberg. Their bodies were found in the water.
Ludwig's death was recorded officially as suicide by drowning, although there is enough evidence to discredit this and indicate that Ludwig was murdered.