100 Heroes: Magnus Hirschfeld
The gay man who changed the way we think about sexuality.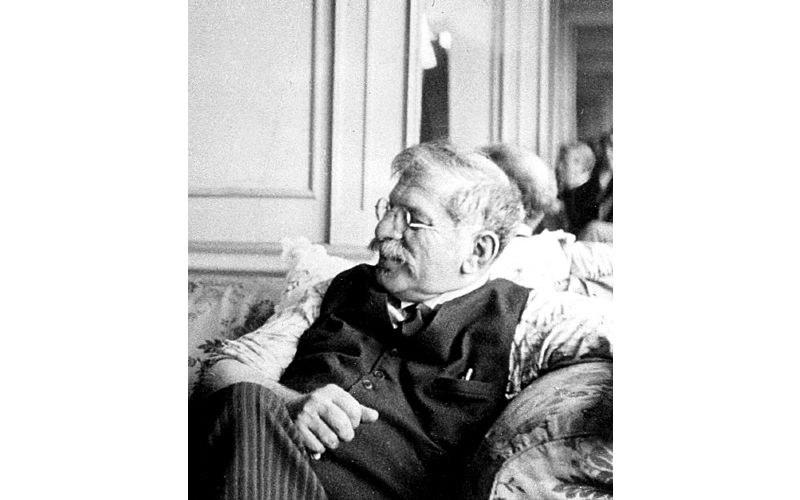 Magnus Hirschfeld was a German physician and sexologist educated primarily in Germany – he based his practice in Berlin-Charlottenburg during the Weimar period.
An outspoken advocate for sexual minorities, Hirschfeld founded the Scientific-Humanitarian Committee which advocated for homosexual and transgender rights.
Hirschfeld was targeted by Nazis for being Jewish and gay. He was forced into exile in 1933.
Early life
Hirschfeld was born in 1868 in Kolberg.
In 1887, he began studying philosophy and philology in Breslau, then from 1888 to 1892 he studied medicine in Strasbourg, Munich, Heidelberg, and Berlin. In 1892, he earned his doctoral degree.
After his studies, he traveled through the United States for eight months – living from the proceeds of his writing for German journals.
During his time in Chicago, Hirschfeld became involved with the homosexual subculture in that city. Struck by the essential similarities between the homosexual subcultures of Chicago and Berlin, Hirschfeld first developed his theory about the universality of homosexuality across the world, as he researched in books and newspaper articles about the existence of gay subcultures in Rio de Janeiro, Tangier, and Tokyo.
On his return to Germany, he started a naturopathic practice in Magdeburg. In 1896, he moved his practice to Berlin-Charlottenburg.
Hirschfeld became interested in gay rights because many of his gay patients took their own lives.
Sexual rights activism
In 1896, Hirschfeld issued a pamphlet, Sappho and Socrates, on homosexual love.
In 1897, Hirschfeld founded the Scientific Humanitarian Committee with the publisher Max Spohr, the lawyer Eduard Oberg, and the writer Franz Joseph von Bülow. The group aimed to undertake research to defend the rights of homosexuals and to repeal Paragraph 175, the section of the German penal code that, since 1871, had criminalised homosexuality. They argued that the law encouraged blackmail. The motto of the Committee, "Justice through science", reflected Hirschfeld's belief that a better scientific understanding of homosexuality would eliminate social hostility toward homosexuals.
As part of his efforts to counter popular prejudice, Hirschfeld spoke out about the taboo subject of suicide and was the first to present statistical evidence that homosexuals were more likely to commit suicide or attempt suicide than heterosexuals. Hirschfeld prepared questionnaires that gay men could answer anonymously about homosexuality and suicide. Collating his results, Hirschfeld estimated that 3 out of every 100 gays committed suicide every year, that a quarter of gays had attempted suicide at some point in their lives and that the other three-quarters had had suicidal thoughts at some point. He used his evidence to argue that, under current social conditions in Germany, life was literally unbearable for homosexuals.
Hirschfeld's position, that homosexuality was normal and natural, made him a highly controversial figure at the time, involving him in vigorous debates with other academics, who regarded homosexuality as unnatural and wrong.
In 1914, Hirschfeld published his book Die Homosexualität des Mannes und des Weibes – "The Homosexuality of Men & Women", The book was an attempt to comprehensively survey homosexuality around the globe, as part of an effort to prove that homosexuality occurred in every culture.
Eulenburg affair
Hirschfeld played a prominent role in the Harden–Eulenburg affair of 1906–09, which became the most widely publicised sex scandal in Imperial Germany.
During the libel trial in 1907, when General Kuno von Moltke sued the journalist Maximilian Harden, after the latter had run an article accusing Moltke of having a homosexual relationship with the politically powerful Prince Philipp von Eulenburg, who was the Kaiser's best friend.
Hirschfeld testified for Harden. In his role as an expert witness, Hirschfeld testified that Moltke was gay and, thus, what Harden had written was true. Hirschfeld — who wanted to make homosexuality legal in Germany — believed that proving Army officers like Moltke were gay would help his case for legalisation. He also testified that he believed there was nothing wrong with Moltke.
Hirschfeld's testimony caused outrage all over Germany. Far from precipitating increased tolerance as Hirschfeld had expected, the scandal led to a major homophobic and anti-Semitic backlash. After the scandal had ended, Hirschfeld concluded that, far from helping the gay rights movement as he had hoped, the ensuing backlash set the movement back. The conclusion drawn by the German government was the opposite of the one that Hirschfeld wanted; the fact that prominent men like General von Moltke and Eulenburg were gay did not lead the government to repeal Paragraph 175 as Hirschfeld had hoped and, instead, the government decided that Paragraph 175 was being enforced with insufficient vigor, leading to a crackdown on homosexuals that was unprecedented and would not be exceeded until the Nazi era.
World War I
In 1914, Hirschfeld was swept up by the national enthusiasm for the Burgfrieden ("Peace within a castle under siege") as the sense of national solidarity was known where almost all Germans rallied to the Fatherland.
As a Jewish homosexual, Hirschfeld was acutely aware that many Germans did not consider him to be a 'proper' German, or even a German at all; so, he reasoned that taking an ultra-patriotic stance might break down prejudices by showing that German Jews and/or homosexuals could also be good, patriotic Germans, rallying to the cry of the Fatherland.
By 1916, Hirschfeld was writing pacifist pamphlets, calling for an immediate end to the war. In his 1916 pamphlet Kriegspsychologisches ("The Psychology of War"), Hirschfeld was far more critical of the war than he had been in 1915, emphasising the suffering and trauma caused by it.
Anders als die Andern
Hirschfeld co-wrote and acted in the 1919 film Anders als die Andern ("Different From the Others"), in which Conrad Veidt played one of the first homosexual characters ever written for cinema. The film had a specific gay rights law reform agenda; after Veidt's character is blackmailed by a male prostitute, he eventually comes out rather than continuing to make the blackmail payments. His career is destroyed and he is driven to suicide.
Later life and exile
When the Nazi's came to power in 1933, Hirschfeld was overseas on a world tour to promote his work.
One of the first targets of the Nazi's book-burning was the library of Hirschfeld's Institut für Sexualwissenschaft.
Hirschfeld never returned to Germany.
On his 67th birthday, 14 May 1935, Hirschfeld died of a heart attack in his apartment at the Gloria Mansions I building at 63 Promenade des Anglais in Nice.