Meet the mouthwatering men of meat
Pin-up boys that showcase the total shagability of queer guys.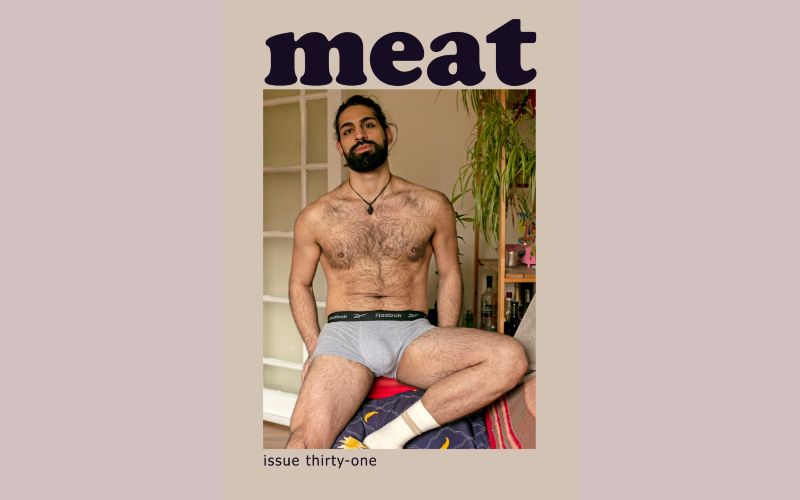 I've always been a big fan of magazines that celebrate the male body, and meatzine is exactly the kind of publication that I want on my reading list.
Over the past 10 years or so, London-based photographer Adrian Lourie has been photographing men for meatzine - I recently caught up with Adrian for a chat on the Naked Men Talking podcast.
What was the initial inspiration to start to create pin-ups of guys in this way?
Ten years feels like a lifetime ago now, and yes, things have changed for the better. However, at that time, I often didn't see guys that looked like me or the men that I fancied in the gay media.
I had this desire to represent more of them and offer a different point of view on what it means to be a gay man in this context – how we all have our amazing qualities, as diverse as we are, and we all deserve to be pin-ups.
This seems a way of honouring the legacy of Bob Mizer and Physique Pictorial but also making it a bit more relevant for the men of today. How has meatzine evolved over its ten years of history so far?
I love those magazines and that aesthetic. The fact that they were mostly pictorial was something that appealed to me.
For the first couple of years, meat was very much about presenting the guys with no distractions and no styling or props. It was democratic in style. I photographed everyone in the same way, against the same, plain white wall and with the same lighting.
As I got to know the guys, I thought it would be interesting to show them in their surroundings – be it their bedroom, or lounge, kitchen or bathroom. I liked the idea of telling more of their story. Shooting this way also mirrored my more conventional photography work, which involves more environmental portraits and interiors.
I guess that's been the magazine's most significant evolution.
The first few issues also fed into the homemade zine aesthetic of the time – it was roughly photocopied and stapled by me at home in my bedroom. Today, producing something more sophisticated and colourful has become a priority for me – but it still holds onto its roots as a very DIY publishing project.
How do you cast the guys that are featured in meatzine?
I generally put a call-out for guys on social media. So, it's mainly guys who follow me or buy the zine or friends of guys who've previously featured. It's very much about an extended family of men who buy into the idea of realistic images of different tribes within our community. I'm always striving to make each issue – and particularly the calendar – as diverse as possible.
How would you describe the type of guy that makes a good meatzine pin-up? Is it a look? Is it an attitude? Is it a guy-next-door shagability?
I mean, those things all play a part, but I'm up for photographing anyone who's up for it and willing to pose.
I'd be lying if I said that I didn't have a type of guy that I'm attracted to photographing, but trust me, it's pretty varied.
When you're putting a calendar together, how do you decide which model gets which month? Do you have a plan for that before the photo-shoots take place, or is it only once you see the photos you've got that you can make those decisions?
I generally ask guys which month they'd like to be and I fit in with them as far as I possibly can. I'm mindful of making month by month as varied as possible, so there are always discussions.
What do you hope that guys feel when they're featured as a meatzine pin-up?
These guys are putting themselves out there, often naked and open to a certain level of scrutiny. It's important to me that they're comfortable and feel proud to be part of something that I genuinely think has a different voice to most naked calendars out there.
What do you hope that people feel when they're looking at meatzine pin-ups?
It's pretty thrilling when guys understand my point of view. Yes, I want them to think the magazine is sexy, but I love it when I hear their experiences of body issues or low self-esteem, coming out or dealing with issues around their gender and sexuality and how perhaps meat played a small part in helping them feel more confident or discover who they are.