100 Heroes: Roger Casement
The gay man who exposed the damage caused by imperialism.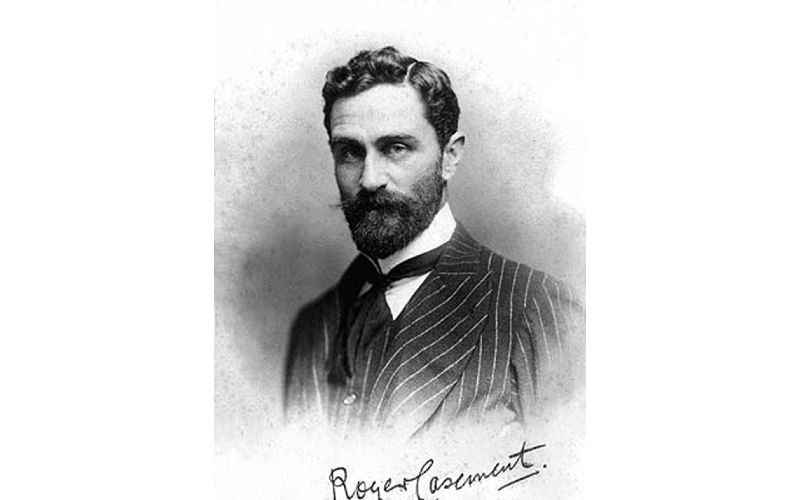 Roger Casement worked for the British Colonial Service in the 1890s. Seeing first-hand the damage wreaked by Imperialism, Casement became a humanitarian activist, renowned for leading investigations into human rights abuses.
As one of the leaders of the push for Irish independence, Casement was executed by the British government for high treason.
To discredit Casement, the British government circulated excerpts from his private journals - known as the Black Diaries - detailing his sexual encounters with men.
Early life
Born in Dublin in 1864, Casement came from a military family. At the age of 16, Casement was sent to England to work as a clerk in a shipping company.
The Congo
In 1864, Casement travelled to the Congo where he was working on a survey to assist the construction of a railroad. In 1904, Casement exposed the conditions he found in the Congo as part of an official investigation for the British government.
Casement went on to join the Colonial Service, working in what was then British West Africa and also the French Congo.
South America
Building on his investigation in the Congo, in 1906 the British Foreign Office sent Casement to Brazil. His task was to investigate allegations of rubber slavery in Peru. Casement's report received widespread publicity and outrage at the abuses uncovered. By using first-person accounts from the witnesses he interviewed, Casement's report gave colonial subjects a previously unheard voice in official documents, and established a new style for human rights investigations.
In 1911, Casement received a knighthood from the British Crown for his investigations in South America.
Ireland
Casement joined the Irish political party Sinn Féin in 1905. Having retired from the British consular service in 1913, Casement began helping to form the Irish Volunteers and building an international network of Irish nationalists to support the push for independence.
In 1914, in the early days of World War I, Casement was part of a plan to secure weapons from Germany. The proposal was that the revolutionary forces in Ireland would launch a revolt against England, diverting British military attention away from Europe.
The British intercepted German communications and the plan was exposed. The German ship transporting the weapons was intercepted and its crew arrested. Casement was also arrested and charged with high treason - he was found guilty and sentenced to execution by hanging.
He was executed in 1916, he was 51 years old.
The Black Diaries
Before and during Casement's trial, the British government circulated excerpts from Casement's journals. This was part of a campaign to portray Casement as a sexual deviant - the diaries included numerous explicit accounts of sexual activity.
While never publicly speaking about his sexuality, Casement's diaries reveal him as a gay man who had numerous sexual encounters. His diaries indicate that he had a preference for younger men, and that he mostly paid for sex.