100 Heroes: Rupert Brooke
The gay man who became an important war poet.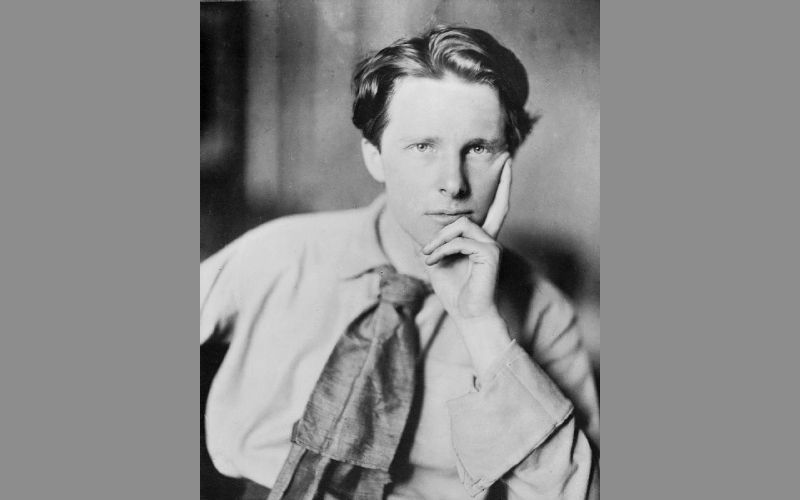 Rupert Brooke was an English poet known for his idealistic war sonnets written during the First World War, especially The Soldier. He was also known for his boyish good looks.
Early life
Brooke was born in 1887 in Rugby.
He studied at Rugby School, where he had sexual relationships with fellow pupils Charles Lascelles, Denham Russell-Smith and Michael Sadleir.
In 1906, Brooke went to Cambridge to study Classics. There he became a member of the Apostles, was elected as president of the university Fabian Society, helped found the Marlowe Society drama club and acted, including in the Cambridge Greek Play. The friendships he made at school and university set the course for his adult life.
Career
Brooke made friends among the Bloomsbury group of writers.
Brooke enlisted at the outbreak of war in August 1914. He came to public attention as a war poet early the following year, when The Times Literary Supplement published two sonnets ("IV: The Dead" and "V: The Soldier") on 11 March; the latter was then read from the pulpit of St Paul's Cathedral on Easter Sunday (4 April).
Brooke's most famous collection of poetry, containing all five sonnets, 1914 & Other Poems, was first published in May 1915.
Brooke was commissioned into the Royal Naval Volunteer Reserve as a temporary sub-lieutenant shortly after his 27th birthday and took part in the Royal Naval Division's Antwerp expedition in October 1914.
Death
Brooke sailed with the British Mediterranean Expeditionary Force on 28 February 1915 but developed pneumococcal sepsis from an infected mosquito bite. French surgeons carried out two operations to drain the abscess but he died at 4:46 pm on 23 April 1915, on the French hospital ship Duguay-Trouin, moored in a bay off the Greek island of Skyros in the Aegean Sea, while on his way to the landings at Gallipoli. As the expeditionary force had orders to depart immediately, Brooke was buried at 11 pm in an olive grove on Skyros.
On 11 November 1985, Brooke was among 16 First World War poets commemorated on a slate monument unveiled in Poets' Corner in Westminster Abbey.