100 Heroes: St Anselm
The gay man who became a saint.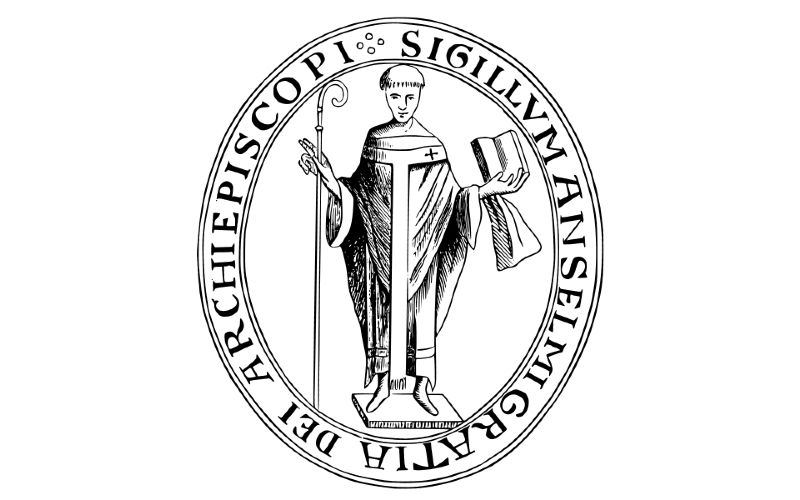 Saint Anselm of Canterbury was an Italian Benedictine monk, abbot, philosopher and theologian of the Catholic Church, who held the office of Archbishop of Canterbury from 1093 to 1109.
After his death, he was canonized as a saint; his feast day is 21 April.
As archbishop, he defended the church's interests in England amid the Investiture Controversy. For his resistance to the English kings William II and Henry I, he was exiled twice: once from 1097 to 1100 and then from 1105 to 1107. While in exile, he helped guide the Greek bishops of southern Italy to adopt Roman rites at the Council of Bari.
He worked for the primacy of Canterbury over the bishops of York and Wales but, though at his death he appeared to have been successful, Pope Paschal II later reversed himself and restored York's independence.
Early Life
Anselm was born in or around Aosta in northern Italy around the year 1033.
When Anselm's mother died, his father entered a convent. Anselm – now aged 23 – left home and travelled extensively for a number of years.
By the age of 27, he had entered and abbey and begun his religious studies.
Abbot of Bec
In 1078, Anselm was elected as the Abbot of Bec Abbey in Normandy.
Under Anselm's direction, Bec became the foremost seat of learning in Europe, attracting students from France, Italy, and elsewhere.
Anselm wrote extensively and was known as one of Europe's leading theologists.
The fame of Anselm's monastery grew not only from his intellectual achievements but also from the way that he ran the abbey as well as his leadership in protecting the abbey from political interference from competing factions within the church hierarchy.
In England
Following the Norman Conquest of England in 1066, victorious lords had given Bec Abbey gifts of extensive property in England.
Anselm occasionally visited to oversee the monastery's property, to wait upon his sovereign William I of England – formerly Duke William II of Normandy – and to visit his mentor Lanfranc, who had been installed as archbishop of Canterbury in 1070.
He was respected by William I and the good impression he made while in Canterbury made him the favourite to succeed Lanfranc as Archbishop.
There was quite a complicated sequence of events involving a tussle for power between William II and religious leaders.
Eventually, 1093, Anselm was enthroned as Archbishop of Canterbury.
Archbishop of Canterbury
As archbishop, Anselm continued to agitate for reform and the interests of Canterbury. As such, he repeatedly took advantage of expedient moments to press the English monarchy for concessions and support of the reform agenda. His opposition to royal prerogatives over the church, meanwhile, twice led to his exile from England.
Final years
Anselm died in 1109. His remains were taken to Canterbury Cathedral and laid at the head of  his mentor Lanfranc.
Personal life
Anselm wrote extensively. As well as his theological writing, Anselm also wrote countless personal letters. About 500 of Anselm's personal letters have been preserved by historians – letters to clerics, monks, relatives, and others.
Many of Anselm's letters contain passionate expressions of attachment and affection, often addressed "to the beloved lover".
Biographers have varying views on what his letters tell us about Anselm, but there is a strong case to be made that Anselm's letters show us the desires of a gay man.