100 Heroes: St Aelred of Rievaulx
The gay man who became one of the world's most important historians.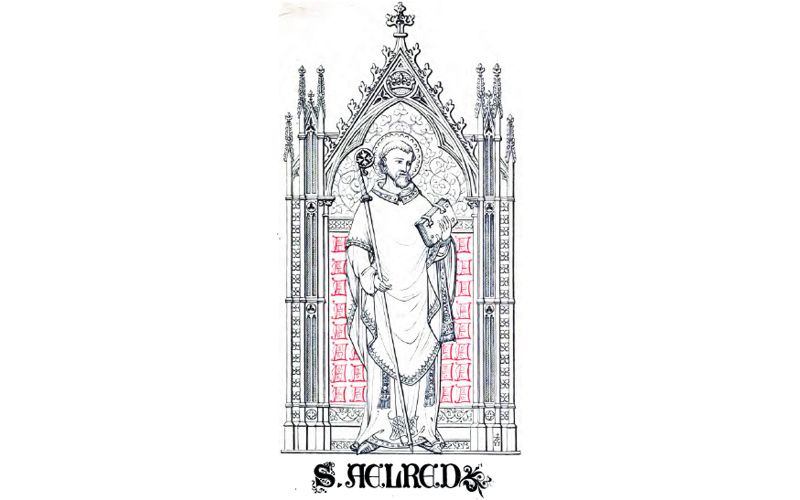 Aelred of Rievaulx was an English Cistercian monk. He is best-known as Abbot of Rievaulx from 1147 until his death, and he's also remembered as a writer. He is regarded by the Christian church as a saint.
Life
Aelred was born in Hexham, Northumbria, in 1110.
Aelred's early education was probably at the cathedral school at Durham. Aelred spent several years at the court of King David I of Scotland in Roxburgh, possibly from the age of 14 rising to the rank of echonomus - which was similar to a steward of the household.
In 1134, at the age of 24, Aelred left the court of David I to enter the Cistercian abbey of Rievaulx in Yorkshire.
In 1143, after a brief visit to Rome, Aelred was appointed Abbot of Revesby Abbey, and was soon promoted to become Abbot of Rievaulx. Rievaulx grew to become an abbey of over 140 monks.
An active participant in both religious and secular politics, Aelred wrote several books on spirituality and history.
Aelred died in 1167 at Rievaulx.
Sainthood

Aelred was never formally canonised in the manner that was later established, but he became the centre of a cult in the north of England that was officially recognised by Cistercians in 1476. As such, he was venerated as a saint, with his body kept at Rievaulx.
Aelred of Rievaulx is listed as a saint on 12 January, the date of his death, in the official edition of the Roman Martyrology - a book that documents the official position of the Roman Catholic Church.
Sexuality
It's fairly widely accepted that Aelred was a gay man - historians point to the writings of Aelred and also accounts by contemporaries.
One of the subjects of Aelred's affections was a monk called Simon. Accounts about their relationship indicate that Aelred was deeply in love with Simon, and stayed devoted to him until Simon's death.
In his writings, Aelred refers to the relationship of Jesus and John the Apostle as a marriage - holding out their relationship as an example of relationships between monks and clergy, and giving a sense of the homoerotic context within which Aelred operated.