Behind-the-scenes: Axeish
Get to know the artist and the men he celebrates.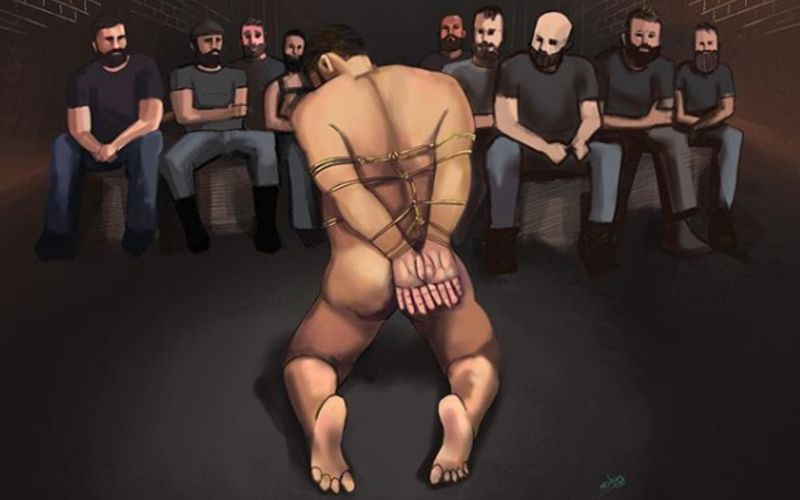 I caught up with Axeish to talk about his art and the men it celebrates.
When did you start to pursue your passion for drawing and illustration?
I've been drawing since I was a kid, but it was only about four years ago that I started pursuing it seriously.
What led you to focus on the male body and man-on-man erotica?
I grew up in Asia, where homosexuality was still an offence. Being gay, I fantasised about creating a world where things go according to what is ideal for me.
Where do you draw inspiration from?
Day-to-day life. Things I see around in San Francisco. Things I hear about from people – their desires.
What sort of men do you prefer to draw?
I love men of all shapes, sizes, and colours. I love diversity. I'd love to wake up surrounded by cocks of different colours.
But there is also definitely a South Asian influence – growing up, I couldn't find content depicting gay men of colour posing sensually.
If you could get any type of guy to pose for you so you could draw them, what sort of guy would you choose?
Nerds! I especially love the shy ones with beards.
Where can people see your work?
As well as Instagram and Twitter, I also exhibit. I've exhibited my stuff at Strut, which is San Francisco LGBTQ centre. I've also exhibited in the city's State Building, the kink leather shop Mr S, among other places. I feel very glad that my art is accepted and appreciated.
I do accept commissions. It's a fetish of mine to be able to draw something that illustrates someone else's desires. I love the opportunity to bring to life their fetishes and fantasies.
How do you hope that people feel when looking at your illustrations?
I want them to be able to relate to the illustrations.
I want people to feel proud, and to celebrate the self-discovery phase of their life. I wish that I could shout out to them that they are beautiful – that they belong, that they are part of our community.