100 Heroes: Tom of Finland
The gay man who created art that helped shape queer identity and desire.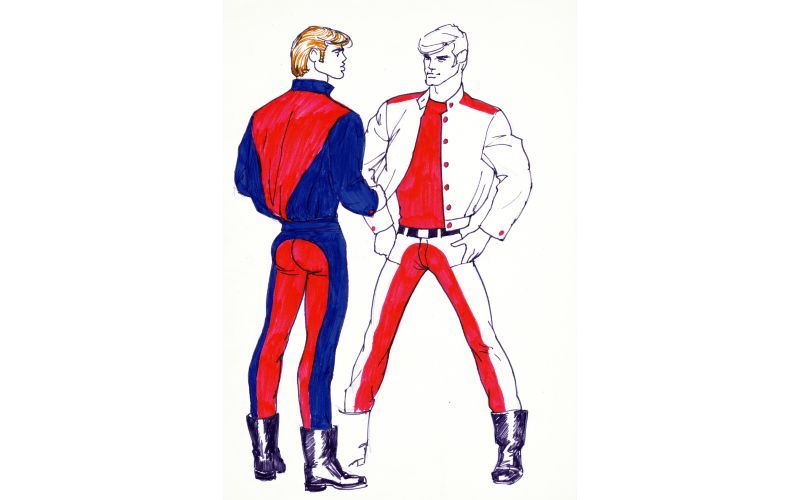 Tom of Finland is the pseudonym of artist Touko Laaksonen – an erotic illustrator from Helsinki.
Tom of Finland's work as an artist was instrumental in shaping 20th-century gay culture – his impact is still being felt today. 2020 is the centenary of his birth.
Laaksonen never went to art school, instead moving to Helsinki when he was 19 to start a career in advertising. He came of age fighting in the Finnish army, defending his country against the Soviets during World War II. Soldier's uniforms would end up playing a big role in his artwork and in defining his style.
"Tom drew loving couples and groups engaged in intense scenes — all sex positive…" says S.R. Sharp of the Tom of Finland Foundation, speaking to LA Weekly. "He drew a world so desirable that we started dressing like it, playing like it — living like it."
Tom of Finland's drawings went hand in hand with the emergence of the gay leather scene in London's undergound in the 50s and 60s.
"Tom was certainly there. He was associated and friends with one of the early physique photographers who captured a lot of the leather scene…" says Sharp. "I'm not going to say he was the creator, but I will say he was part of it. And because he rendered leather so well and he captured it so well in drawings, I think his work became iconically associated with its beginnings."
Laaksonen viewed his homosexuality as a non-issue, and wanted to normalise it for everyone else in his community at a time when being gay was literally a crime.
"In those days, a gay man was made to feel nothing but shame about his feelings and his sexuality. I wanted my drawings to counteract that, to show gay men being happy and positive about who they were…" Tom explained, before he died in 1991 from an emphysema-induced stroke. "I didn't sit down to think this all out carefully. But I knew — right from the start — that my men were going to be proud and happy men."
The men drawn by Tom of Finland were pretty much the first sex-positive modern art figures depicting the LGBTQ community – strapping beefcakes, with bulging muscles, big boots, a visor hat and leather, or a mixture of civilian clothes uniforms – everything about them is big and unapologetically bold.
"Tom went on to give us revolutionary images — he was a liberator. He saw no reason queer men had to fit into the small compartment that society allowed us…" says Sharp. "We were made lesser than — Tom gave us a new vocabulary of who we could be. We could be soldiers, cops, bikers — everything they wouldn't let us be. We could be strong, we could be powerful — he levelled the straight/queer playing field. For as much as he gave homosexuals positive roles models, the heteronormative sphere now could view us as, well, equal."
"Tom of Finland was a part of the sexual revolution and the counterculture. His art made people feel OK to fantasise and not fit a social standard of get married, have kids, grow old, die…" concurs Danny Fuentes of Lethal Amounts, an L.A. art gallery. "Tom of Finland started getting published in the mid-50s in underground zines and rags because 'gay' was outlawed in most places. A culture of its own had to be created in order to hide it from the rest of the world that wanted to harm those that identified as gay in the 50s. Sometimes it's hard for people to contextualise how outrageous it was to depict two police officers or bikers or military men being homosexual and still masculine."
Laaksonen gave up his job in advertising so that he could devote himself to his art full time in 1973.
The landmark 1962 Supreme Court case MANual Enterprises, Inc. v. Day essentially legalised the mailing of male pornographic materials a decade prior, and allowed him the freedom to publish and exhibit his work on a larger scale.
In the early 80s, he came to L.A. at the invitation of Durk Dehner, a gay businessman, film director and publisher. Together they started the Tom of Finland Company so that they could publish approved copies of Tom's graphic novels and curtail all the bootlegs that were going around.
Celebrating the legacy of Tom of Finland
As part of the 100 year celebrations, the Tom of Finland Foundation invited artists to create a tribute to the style and spirit of Tom.
The Foundation shared the submissions on their social media. They're fantastic!
What's the Tom of Finland Foundation?
Tom ended up living in L.A. for half of every year for the rest of his life, and each time he came, he would bring more materials with him – drawings, letters, uniforms, his stamp collection.
As a means of archiving, Tom established the Tom of Finland Foundation in 1984, with Laaksonen's actual house, located in Echo Park, serving as headquarters. It now functions as part museum, part event space and a safe place for the LGBTQ community.
After completely cataloguing Tom's materials, the foundation has focused its attention on other artists, giving them support and a space for their works to be shown via art and culture festivals, drawing sessions, and emerging artist competitions. Also added were artist-in-residency program, screenings and most recently, a summer music program too.
The foundation is a non-profit that works towards "protecting, preserving and promoting erotic art."
Mike – On The Bus
One of our favourite characters created by Tom of Finland is that of Mike, who appears in the series On The Bus.
Tom of Finland: Love and Liberation
To mark the centenary of the birth of Touko Laaksonen – the artist we know as Tom of Finland – London's House of Illustration presented the UK's first public exhibition dedicated solely to the work of one of the world's most important queer artists.
We caught up with Olivia Ahmad – curator of the exhibition – to talk about Tom of Finland.
Is Tom of Finland an important artist because of his influence on gay men, or is he an important artist because of his creative skills?
Both. Tom was both a hugely important and pioneering figure in gay culture, and a brilliant figurative artist with a singular aesthetic and imagination. He was also a great visual storyteller – when the law meant that he couldn't directly show intimacy between men in his work, he expertly drew subtle gestures and facial expressions that implied more than they showed. Later in his career, he created compelling sequential narratives in his now iconic comics.
Tom's work celebrated gay identity and was circulated in gay communities during his lifetime, influencing musicians, artists and fashion designers along the way. His work remains resonant today, with gay communities and with anyone who believes in love and freedom from oppression and prejudice.
Art inspired by Tom of Finland - presented by the Tom of Finland Foundation