What underwear should I wear?
Time to re-think your wardrobe.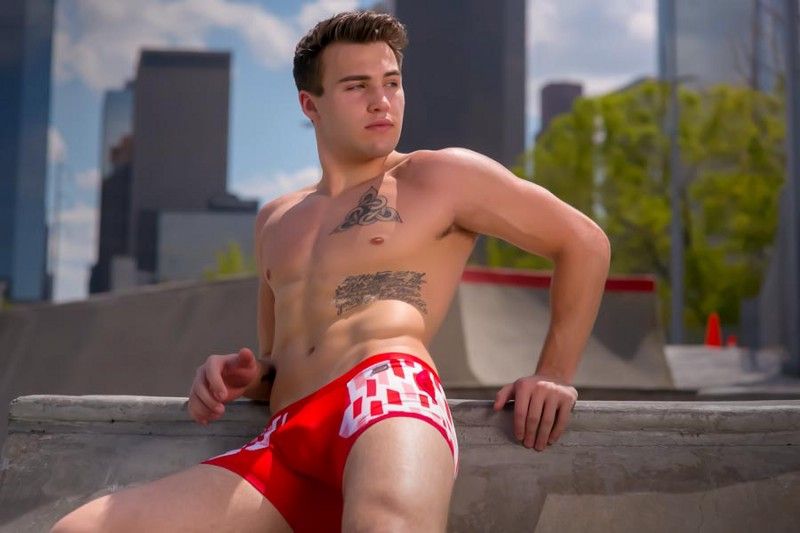 For something that's generally worn beneath your clothes, underwear is a pretty big deal. You might think that not a lot people get to see your underwear, but you can't deny that your choice of underwear has a big impact on your comfort, your self-confidence, and the image that you want to present to the world.
Different situations call for different styles of underwear, depending on who you are, what you want to feel, and what you want to project.
Let's workshop a couple of different scenarios and see if we can suggest an underwear option that's right for you.
A job interview
Whatever job you're going for, whether it's your dream career or just a way to pay the bills, the key thing is that you need to be as relaxed and comfortable as possible.
That's why we're recommending a classic pair of briefs. You want to hold everything in place. If you're wearing a suit, or a nice pair of trousers, you want underwear that's going to help you look sharp.
But you're probably going to be sweating a bit, so you need a comfortable fit that's not going to be too tight or constricted.
There's already enough to think about during a job interview, you don't want to have to be worrying about your underwear.
A long flight
Whether your flight is two hours or twelve hours, when you're preparing for your travels you know that you're going to be sitting in relatively cramped conditions for an extended period of time.
You need practical, functional underwear. Avoid anything too tight, or anything that you might need to try and adjust or rearrange mid-flight.
A sensible pair of boxer-briefs is the ideal choice when flying. You'll give yourself a relaxed fit, while also ensuring comfort and support.
A gym work-out
The locker-room of your gym is a great way to compare underwear choices, and get a sense what the other guys are rocking out in while they're lifting.
Your gym work-out requires comfort and support, but also needs to give you plenty of room to breathe as you're going to be working up a sweat.
A jock-strap is the ideal choice — it holds everything nice and snug, while also enabling as much air as possible to flow around your body.
Go with one of the newer sporty styles, to show that you're a forward-thinking kind of guy. You're bound to turn a few heads on the locker-room.
A date
Whether or not you're the kind of guy that puts out on a first date, the underwear that you choose is going to be sending some pretty clear signals. Your underwear should match your intentions, but if you're wanting to project something that's a bit sexy, a bit flirty, a bit fun, then an old-school jock-strap in a bright colour is a great choice. Let that waistband peek up over your jeans. Let your guy know what's in store for him if he plays his cards right.
A hook-up
If you've put your technology to good use and lined up some action, then you know that whatever underwear you choose is going to be coming off fairly quickly. A jock-strap is often a popular choice for a hook-up, but it's getting a bit predictable. Why not try a thong? Thongs have a cool, retro feel, a 70s vintage porn kind of vibe that will bring a smile to your guy's face. It's also a great way to show off your assets and showcase the results of all of the squats that you've been doing in the gym.
What underwear do gay men wear?
The results of our survey are in — check how you measure up.
We surveyed 143 gay men and asked them some personal questions about their underwear.
The results were discussed with a panel of experts and underwear enthusiasts.
Here's what we found out:
What is your preferred style of underwear for day-to-day wear?
- Briefs: 43%
- Boxer Briefs: 36%
- Boxers: 8%
- Jockstrap: 7%
- Thong: 1%
- Commando: 5%
"I love all kinds of undies — jockstraps, mesh, boxer briefs, thongs — it doesn't matter, I've got some of all kinds…" — Tigger Redd
"I feel sexy in jockstraps — even when the cameras aren't rolling, and no one is taking a photo. Just having one on, lounging around the house or under my jeans, I feel sexy in it. I probably own about 40 jocks…" — Drew Dixon
"It's a bit of an acquired taste to wear thongs. Most guys are surprised to find when they do try one on how comfy and sexy they can be. If you're an arse man, like myself, then the look of a thong shows off the bum to great effect…" — Mattman
What is your preferred style of underwear to wear to the gym?
- Briefs: 34%
- Boxer Briefs: 27%
- Boxers: 6%
- Jockstrap: 19%
- Thong: 3%
- Commando: 11%
"I've been wearing boxer briefs for a few years now, as I've been trying to pull off the straight-boy look in the gym. But I'm thinking of going back to briefs — briefs are a turn on…" — Anonymous respondent
"If I'm just going to the gym or something, chances are I won't be wearing any underwear…" — Dolf Dietrich
What's your preferred style of underwear on other guys?
- Briefs: 43%
- Boxer Briefs: 21%
- Boxers: 5%
- Jockstrap: 19%
- Thong: 4%
- Commando: 8%
"I absolutely love jockstraps on guys — they accentuate the guy's assets, and just look sexy as fuck. I love foreplay with a guy wearing a jockstrap, and it makes playing with his bum all the more enjoyable…" — Dante Lucas
"I just love any underwear that shows a big manly bulge…" — Yoshi Kawasaki
"If a guy hasn't got good underwear on, then I don't have sex with him. I turn a guy down if he's going commando, or wearing boring or old underwear — it turns me off. He doesn't have to be wearing anything designer, just decent, fresh, clean, and sexy…" — Undiezguy
"I don't have a preference for the type of underwear other guys wear, it doesn't matter to me — as long as they can come off…" — Luka Sage
Does underwear excite you sexually?
- Yes: 83%
- No: 17%
We gave respondents a free text opportunity to explain why underwear excites them sexually. We then manually coded these responses for analysis. Of the 83% of guys who said that underwear excited them sexually, their responses could be categorised as follows:
- It accentuates the male body: 73%
- It's part of the foreplay of having sex: 17%
- It's a fetish: 10%
"Growing up, the closest I had to porn was the underwear section at the mall. I'm a briefs guy, and tracing the outline of the man's bulge on the cover of the package always made me hard. As a boy, I knew what was under that bulge…" — Anonymous respondent
"For me, it represents oppression — as if us humans should be made to feel ashamed about the fact that we have genitalia and that we must somehow conceal them from the public gaze. A man confident about his body, his genitalia, should go commando, that's what excites me…" — Anonymous respondent
"I don't have a fetish about guys in underwear — a naked ass is always gonna turn me on more than a covered one…" — Rogan Richards
Where do you generally buy your underwear?
- Online: 58%
- Instore: 42%
How frequently do you generally buy new underwear?
- At least once a week: 4%
- At least once a month: 24%
- At least once every three months: 36%
- At least once every six months: 17%
- At least once a year: 13%
- I can't remember the last time I bought new underwear: 6%
How much do you normally spend on a pair of underwear?
- Less than USD$10 per pair: 22%
- Less than USD$20 per pair: 43%
- Less than USD$30 per pair: 29%
- More than USD$30 per pair: 6%
When you're buying your preferred style of underwear, which is generally the most important factor that influences your choice?
- Colour/Design: 33%
- Brand: 22%
- Comfort: 20%
- Price: 5%
- Previous experience of the product: 13%
- Recommendation from friend or other trusted source: 4%
- Other: 3%
Those that opted for Other indicated either specific design features or that they didn't buy underwear.
Which brand is your favourite underwear brand that you like to buy?
57 different underwear brands were nominated as the favourite brands of our survey respondents.
While it was possible for respondents to nominate multiple brands for this answer, most respondents only gave one.
The top-scoring brands were:
- Calvin Klein: 16%
- Aussiebum: 10%
- Pump: 7%
- 2(X)IST: 6%
- Andrew Christian: 6%
- Diesel: 5%
- C-IN2: 3%
- Marks & Spencer: 3%
- Uniqlo: 3%
- Other brands: 41%
"Calvin Klein is the most recognised underwear brand in the world, so that doesn't surprise me. The relatively high score for M&S does surprise me though, as they're not known for 'fashionable' designs…" — Mattman
What is the main thing about your favourite underwear brand that appeals to?
- Comfort: 48%
- Design/Colours: 26%
- The reaction I get from guys when I wear them: 9%
- The range of options they have available: 7%
- They're a cool brand: 3%
- Good advertising: 2%
- Other: 5%
Those that opted for Other indicated specific requirements such as a horizontal fly, using 100% cotton material, and brand loyalty.
"I wear Jockey underwear because I like a horizontal fly — no fumbling or fishing, it's an easy reach down and there it is…" — Frank McGinness.
What does this tell us?
- Gay guys think about underwear a lot.
- For most gay guys, underwear is inherently sexual.
- The underwear market is surprisingly fragmented — there's a lot of brand competition.
- Comfort, design, and price are the key factors guiding the underwear purchasing decisions of gay men — although if they look good enough to draw a positive reaction from other guys, then that's also important.
Which style of underwear should I wear?
If you're playing sport, your choice of underwear matters.
Not all underwear is equal — there is a time and a place for everything. Never is that more true than when it comes to sport.
Different sports require different types of movement, they have different styles of sports kit — some sports involve body contact, others don't. It's logical that the style of underwear that you wear for one sport may be completely inappropriate when it comes to another.
Let's take a look at some key styles of underwear and see if we can match them up with the relevant sports.
Briefs
Briefs seem to be favoured by football players, squash, badminton, and tennis players.
This is a style of underwear designed to let your body move, keeping your cock and balls snug and supported, but not offering any real protection.
Inevitably, your briefs are going to get sweaty, but that's part of what makes the after-match showers such a highlight.
"At the gym, I wear briefs — because I sweat a lot…" Dani Robles
Boxer Brief
Hockey probably needs more investigation, as it's a sport where the players seem to be fairly versatile. There's a lot of running involved in hockey, so the right pair of boxer briefs could be the answer.
"I'm slightly odd because I'm the goalkeeper in the hockey team. I wear a full set of body armour and padding and usually just wear boxer briefs…" — Tom Simpson, London Royals
Boxers
Old-school boxers give you comfort and help to keep their air flowing around your body.
This style of underwear is best suited for those sports that don't require any sudden movements — sports such as golf, darts, or archery.
"There isn't really any specific golf underwear. I just wear my running stuff so standard Under Armour classic boxers or Under Armour compression shorts…" — Andrew Graves, Irons Golf
Jockstrap
The jockstrap is the classic piece of sports kit that we've all adopted as one of our favourite styles of underwear. Although initially invented for the bike couriers of Boston, it's the sport of American football that has really helped to elevate the jockstrap to an iconic style of underwear.
This is a style of underwear for a sport that involves body contact — the design of the jockstrap provides some sort of protection to your cock and balls. Rugby, or Australian Rules Football are obvious choices for sports where the jockstrap should be your go-to underwear option.
Jockstraps are also designed to be able to hold a protective cup — ideal for sports such as boxing, cricket, hockey, or lacrosse.
"I tend to wear boxers, but really you just play in whatever's comfortable for you. One guy wears a jock, most others just boxer briefs. It's not a big thing really…" — Stuart Forward, London Titans
Thong
It's not immediately apparent which sports would lend themselves to wearing a thong. While dancers have created their own version of the thong with the dance belt, it's probably your more sedentary sports that require thinking not movement, where the intimate fit of a thong might help you to keep your mind on the game. I'm thinking chess, poker, or darts.
"On Twitter, I always get involved in #ThongThursday…" — Dick Baker
Commando
Cycling is all about the lycra — those shorts come with in-built padding, so commando is the only option.
Greco-Roman wrestling is of interest specifically because of the skin-tight lycra singlets that the wrestlers wear, making it clear that everyone goes commando when wrestling.
Swimming is another sport where underwear is obviously completely superfluous. Nothing says streamlined speed better than a super-tight pair of lycra swim-briefs.
Rowing requires a smoothness of movement that can only be achieved with a skin-tight lycra singlet and no underwear.
"Cyclists have to wear lycra shorts which are padded heavily and can't wear underwear…" — Nasser Tell, Cycle Out
Casual comfort to extreme enhancement
Not everyone gets to see what underwear you've got on, but it can play a crucial role in how you feel and how you project yourself to the rest of the world — your confidence, your attitude, and your state-of-mind.
I caught up Leo Corado of Dude Undies to compare underwear and get to grips with the latest trends in what guys are wearing.
Colourful Choices
'Colour is a big trend in underwear at the moment…' explains Corado. 'Colour isn't just about being eye-catching, but it can be a subtle way to make the most of what you've got — for example, the addition of neon-coloured seams can enhance the contour and shape of the crotch.'
'Wearing colourful underwear can also help you to project your personality — bright and bold colour choices indicate that you're fun and outgoing. Fun graphic prints are another way to convey your personality.'
Brands to look for if you're opting for color in your underwear include JOR, Pikante, Clever, and Candyman.
Bulge Enhancement
'Some guys feel a bit hesitant about bulge enhancing options in underwear…' explains Corado. 'While it's admirable to be happy with what you've got, there's nothing wrong with presenting your best-self, bringing your A-game to stand out from the crowd and attract a bit of attention.'
'The old-school strategy was to stick a sock down your pants, but thankfully things have got a lot more sophisticated in recent years. There's now a lot of options out there — everything from c-rings, slings, pouch pads, or clever construction and design that adds extra bulk to your crotch.'
'Bulge enhancing underwear isn't just for guys who feel a bit on the small size, everyone is different and it can just help you feel a bit more comfortable and help to hold everything in the right position. Some of the best brands for bulge enhancement include Pikante, or ErgoWear.
Sexy and Sporty
'In contrast to some of the softer, lacier underwear trends, the uber-macho sports underwear still remain very popular…' explains Corado. 'Sportswear is a really classic style, and that locker-room aesthetic taps into all of our football-jock fantasies.'
'Sportswear isn't just for guys who go to the gym — really any shape or body-type can be enhanced with the right sporty underwear. I really like the range from Xtremen — they're really practical to wear in the gym or when you're doing something active, but they also look really good and have a very modern and contemporary design.'
'Jock-straps will always be a favourite, the Ergowear Gym Jockstrap takes a very classic design and delivers everything you could ask for.'
Underwear Inspiration: Carson Wall
What do male models choose to wear? Represented by MC2 Model Management, Carson Wall is giving us blond, American, college boy realness.
Let's take a look at his underwear choices.
Tommy Hilfiger
Perry Ellis
Calvin Klein
Polo Ralph Lauren
American Eagle
Hollister
Hanes