World AIDS Day
Progress has been made but plenty of work still needs to be done.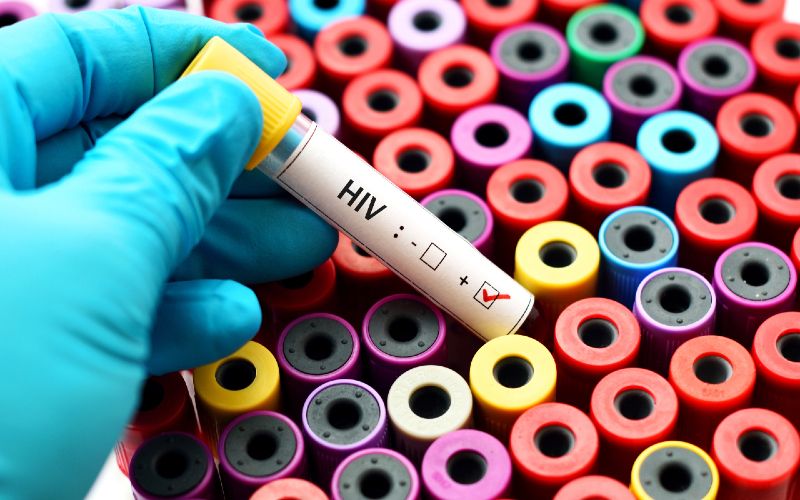 Each year, on 1 December, we mark World AIDS Day. It's a tradition that began in 1988.
World AIDS Day is an opportunity for us all to highlight the importance of tackling HIV, to support everyone living with HIV, and to remember and commemorate everyone who has died from an AIDS-related illness.
Why does World AIDS Day matter?
Now that we've got the benefit of U=U and PrEP, which for many people has made HIV a much more manageable virus, it's easy to lose sight of the work that still needs to be done on HIV.
But, around the world, people are still acquiring HIV and people are still dying from AIDS-related illnesses.
Since HIV was identified in 1983, it has killed around 35 million people.
World AIDS Day is an important opportunity for us to remind each other and the world's governments that HIV is a continuing health issue that needs resources, research, and education.
How should I mark World AIDS Day?
There's no right or wrong way to mark World AIDS Day – find something that feels meaningful to you. A lot of people will be wearing red ribbons – the sale of red ribbons is an important fundraising opportunity for charities and community organisations who work on HIV and AIDS.
Getting an HIV test is also an important thing to do. Knowing your HIV status – and normalising regular testing – is a key step in stopping transmission of the virus and ensuring that people living with HIV are accessing medication.
Educate yourself on PrEP and U=U.
Watch a film to help deepen your understanding of our history with HIV.
What is AIDS?
AIDS is the name used to describe a range of illnesses that you can become susceptible to when your immune system has been damaged by the HIV virus.
We often talk about HIV and AIDS in the same breath – they're two sides of one deadly coin.
It was in 1981 that the first victims of AIDS were identified in the US.
Since then, according to the agencies of the United Nations, around 35 million people have died of AIDS-related illnesses.
For most of us, AIDS doesn't really hit the headlines much anymore. We don't yet have a cure, we don't yet have a vaccine, but we do have effective treatment and we do have a pre-exposure prophylaxis.
We have the tools required to prevent the transmission of HIV. We have the tools required to prevent anyone dying from AIDS.
We have the tools to stop transmission, we have the tools to stop people dying, but people are still acquiring HIV and people are still dying of AIDS-related illnesses.
So, where's the disconnect?
What's missing is the political will to allocate the resources required to stop the transmission of HIV around the globe.
UNAIDS is the Joint United Nations Programme on HIV/AIDS. This is the agency that has been tasked by the United Nations to end the AIDS pandemic by 2030. UNAIDS is coordinating the programs required to get us to the goal of zero new HIV infections, zero discrimination, and zero AIDS-related deaths.
We need to continue to advocate for the resources required to make this a reality.
What is PrEP?
PrEP stands for pre-exposure prophylaxis. PrEP is a tool that HIV-negative people can use to avoid acquiring HIV. Essentially, it's taking medication that acts as a preventative to HIV infection.
It was in 2012 that the World Health Organisation endorsed the use of antiretroviral medication – which is used to treat someone who has HIV – as a pre-exposure prophylaxis to prevent people from acquiring the virus.
In simple terms, PrEP is medication that acts as a preventative to HIV.
Truvada was the brand that was first available for use as PrEP, but there are now generic versions of the medication also available.
"PrEP works for everyone, regardless of sexual or gender identity…" says activist Greg Owen, from #IWantPrEPNow . "Anyone who belongs to a group with high rates of HIV should think about using PrEP. Similarly, anyone who has sex with people who are from groups or countries with high rates of HIV might think about PrEP too. We know that HIV rates are highest among men who have sex with men, trans women, and Black African communities."
"I started PrEP following an incident where I thought I may have contracted HIV…" explains Jason Domino, of Porn4PrEP – he's been taking PrEP since 2015. "It was difficult to obtain PrEP to begin with. Initially I was buying PrEP independently online. At that time, some close friends contracted HIV. I had information that could have prevented them contracting HIV, but I chose to keep how I was getting PrEP private out of fear that my own access would be taken away if more people knew. I've had to try and deal with that guilt. Since then, I've dedicated most of my time to PrEP advocacy and helping as many people as I can find ways to get it."
When PrEP first became available, it was approved for use on the basis that it should be taken daily to ensure protection. However, the research now indicates that on-demand dosing is just as effective for anal sex.
How do I get PrEP?
The availability of PrEP will vary depending on where you are. Some countries have made PrEP available free-of-charge to people at risk of acquiring HIV, in other countries it is only available if you purchase it privately.
As a first step, speak with your doctor of sexual health service. They will be able to advise whether PrEP is available on prescription. If it's not available through your health service, there are options available to purchase online.
How effective is PrEP?
The CDC – Centers for Disease Control and Prevention in the US – advises that PrEP reduces the risk of acquiring HIV from a sexual encounter by more than 90%.
A major research project – the iPrEx Study – found that PrEP was up to 99% effective.
The San Francisco AIDS Foundation and the San Francisco Department of Public Health advise that PrEP provides 92%-99% reduction in HIV risk.
If we compare the effectiveness of PrEP versus condoms, research indicates that condoms are somewhere between 70%-92% effective in preventing the transmission of HIV – if they are used correctly and do not break. However, researchers have also found that condom use errors – breakage, slippage, or incomplete use – occur in up to 40% of sexual encounters.
What is On-Demand Dosing for PrEP?
In relation to PrEP, On-Demand or Event-Based Dosing means that instead of taking PrEP medication on a daily basis, you only need to take the PrEP medication before and after you have sex.
For example, if you're going away on vacation and planning on having some fun, then you might want to take PrEP before and after the vacation, but then plan to come off the medication when you're back in your usual routine or when your chances of acquiring HIV are lower.
The directions for on-demand PrEP dosing are:
2 pills taken between 2–24 hours before you have sex.
1 pill taken 24 hours after the first dose.
1 pill taken 48 hours after the first dose.
If you continue to have sex after that first day, continue to take 1 pill per day until 48 hours after the last sexual event.
The research has shown that if you take PrEP before and after sex in this way, then this gives your body the same level of protection against HIV as if you had been continuously taking PrEP every day.
If you haven't been able to follow the recommended dosage for the on-demand protocol, then you should seek medical advice and access PEP medication  –  PEP is post-exposure prophylaxis.
Undetectable = Untransmittable
Often referred to in the short-hand as U=U, what this means is that if someone has HIV but their medication has reduced their viral load to 'undetectable' levels, then they can't transmit the virus to anyone else.
This is sometimes referred to as Treatment-as-Prevention, or TasP.
The importance of testing
Regular testing at your local sexual health service is important to ensure that you know your status regarding HIV, and that you're keeping on top of any other Sexually Transmitted Infections – STIs – that you may be exposed to from time to time.
Testing is quick, easy, painless, and ensures that you're fully equipped to keep yourself fit and healthy while enjoying an active sex life the way you want it.
How often should I get an STI test?
"If you're sexually active you should get tested at least once a year, but if you have new sexual partners you should get tested more often than that…" advises sexual health professional Matthew Hodson. "If you're involved in group or party scenes, it's very easy to acquire and transmit STIs."
"If you have condomless sex with multiple partners on a regular basis, you might consider monthly screens…" adds Hodson. "The more frequently you get tested, the faster you'll be treated if you've picked up an STI. Frequent testing and early treatment can help to reduce the number of STIs circulating in our communities."
Where can I get an STI test?
Depending on where you live and how your health system operates, there may be different options available to you. As a general guide, you should be able to access an STI test in the following ways:
1. Your local doctor – often referred to as your General Practitioner, or your GP – will be able to complete the full range of STI testing for you.
2. Specialist sexual health clinics are a great resource. They are likely to provide a walk-in service, or you may need to make an appointment.
3. Home test kits. These are often available free-of-charge – they're posted to you, you collect the samples yourself, and then post it back for screening. A few days later, you then get a text with the results.
What happens at an STI test?
Whether you're being tested by a health professional, or doing the testing yourself, samples from your body need to be collected so that they can be tested for infection.
What you'll need to provide is:
a urine sample
a blood sample
swabs from your anus
You might find this whole process a bit awkward and a bit embarrassing, but it doesn't hurt and the more frequently you do it the easier it gets.
What happens if I test positive for an STI?
There's no need to panic. STIs can be easily treated and managed. The health professional who's testing you will be able to advise about what steps you need to take if you return any positive results.
The earlier that any STIs are detected, the easier it is to treat them, and the easier it is to ensure that you're not transmitting STIs to anyone else.