100 Heroes: Leonard Matlovich
The gay man who became a military hero.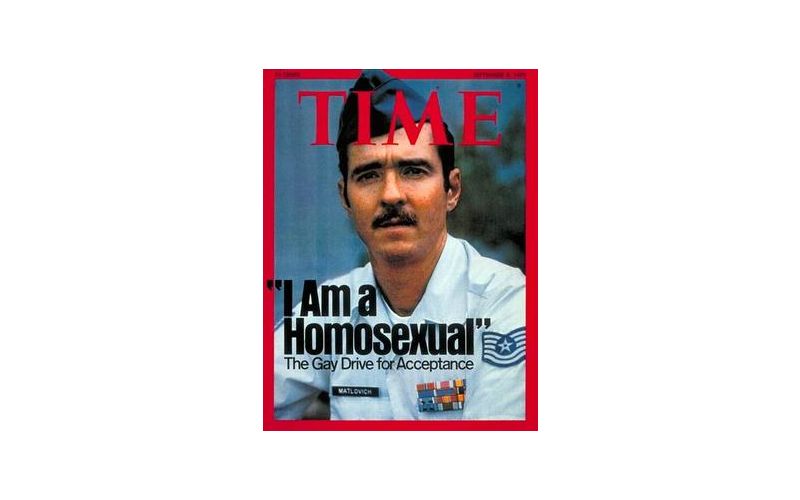 Leonard Matlovich was a Vietnam War veteran – a recipient of the Purple Heart and the Bronze Star.
Matlovich was the first gay service member to purposely out himself to the military to fight their ban on gays, and perhaps the best-known openly gay man in America in the 1970s next to Harvey Milk.
His fight to stay in the United States Air Force after coming out of the closet became a cause célèbre around which the gay community rallied. His case resulted in articles in newspapers and magazines throughout the country, numerous television interviews, and a television movie on NBC.
His photograph appeared on the cover of the September 8, 1975, issue of Time magazine, making him a symbol for thousands of gay and lesbian service-members and gay people generally.
Early life and early career
Born in 1943 at Hunter Air Force Base in Savannah, Georgia, Matlovich was the only son of a career Air Force sergeant.
He spent his childhood living on military bases, primarily throughout the Southern United States.
Not long after he enlisted at 19, the United States increased military action in Vietnam, about ten years after the French had abandoned active colonial rule there. Matlovich volunteered for service in Vietnam and served three tours of duty. He was seriously wounded when he stepped on a landmine in Đà Nẵng.
Activism
In 1974, Matlovich read an interview in the Air Force Times with gay activist Frank Kameny, who had counselled several gay people in the military over the years.
Matlovich contacted Kameny, who told him he had been looking for a gay service member with a perfect record to create a test case to challenge the military's ban on gays.
After several months of discussion with Kameny and ACLU attorney David Addlestone during which they formulated a plan, Matlovich hand-delivered a letter to his Langley AFB commanding officer on March 6, 1975. When his commander asked, "What does this mean?" Matlovich replied, "It means Brown versus the Board of Education" – a reference to the 1954 landmark Supreme Court case outlawing racial segregation in public schools.
Discharge and lawsuit
At that time, the Air Force had a fairly ill-defined exception clause that could allow gay people to continue to serve if there were extenuating circumstances. These circumstances might include being immature or drunk, exemplary service, or a 'one-time' experimentation.
During Matlovich's September 1975 administrative discharge hearing, an Air Force attorney asked him if he would sign a document pledging to "never practice homosexuality again" in exchange for being allowed to remain in the Air Force. Matlovich refused.
Despite his exemplary military record, tours of duty in Vietnam, and high performance evaluations, the panel ruled Matlovich unfit for service, and he was dischraged from the Air Force in October 1975.
Matlovich sued for reinstatement, but the legal process was a long one, with the case moving back and forth between United States District and Circuit Courts.
When, by September 1980, the Air Force had failed to provide U.S. District Court Judge Gerhard Gesell an explanation of why Matlovich did not meet its criteria for exception (which by then had been eliminated but still could have applied to him), Gesell ordered him reinstated into the Air Force and promoted. The Air Force offered Matlovich a financial settlement instead. Convinced that the military would find some other reason to discharge him if he reentered the service, or that the conservative Supreme Court would rule against him should the Air Force appeal, Matlovich accepted.
Later life
In 1986, Matlovich was diagnosed with HIV. He became a champion for HIV/AIDS research. He announced on Good Morning America in 1987 that he had contracted HIV, and was arrested with other demonstrators in front of the White House that June protesting the inadequate response to HIV/AIDS by the administration of President Ronald Reagan.
Matlovich died in 1988. He was 44.